The Express Guide to Microcurrent Technology
What is Microcurrent?
Microcurrent is a scientifically proven therapy that utilises low level electrical currents applied to the skin and is employed by dermatologists, practitioners and beauty therapists as both a muscle re-educating/rehabilitating treatment and an anti-ageing facial toner to decrease fine lines, folds and wrinkles resulting in restored youth, suppleness and firmness to the skin. Microcurrent is pivotal in fighting the signs of ageing as it not only increases the natural production of adenosine triphosphate (ATP), but collagen and elastin as well to holistically encourage the most youthful and healthy complexion possible for every client.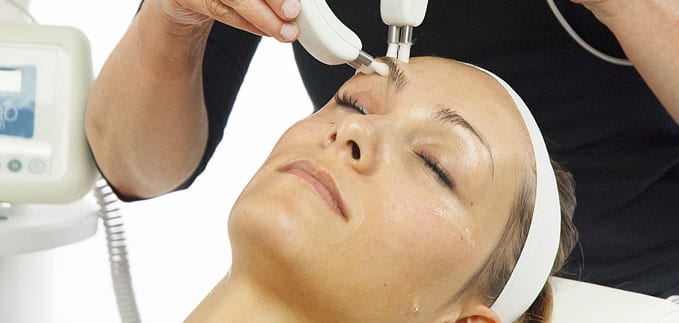 See Microcurrent technology in action
How does Microcurrent work?
A stand-alone microcurrent facial typically takes 45 minutes and involves the use of electrode handpieces applied with light pressure to targeted areas of the skin/facial muscles. Our body tissue is equipped with its own electrical frequency and microcurrent uses low level electrical currents to mirror or restore these cellular frequencies to a healthy, balanced level.
Microcurrent therapy is well known for significantly increasing the production of adenosine triphosphate (ATP), an energy-bearing molecule that feeds the biochemical functions in our bodies. That together with the inducement of protein synthesis for tissue repair stimulates the production of collagen and elastin, making microcurrent therapy an exceptional anti-ageing treatment that works to effectively lift, tone and tighten facial muscles as well as smooth out and soften complexions for a younger, revitalised and more contoured appearance.
Outcomes of Microcurrent treatment:
Invigorated blood and lymph circulatory benefits
Targeted muscle re-education
Iontophoresis (induces enhanced product penetration)
Increased production of collagen and elastin
Stimulated protein synthesis, gluco neo-genesis and membrane transport
Increased production of adenosine triphosphate (ATP)
Dispersal of hardened collagen
Psychological/surface benefits of Microcurrent therapy:
Noticeably firms and contours skin
Enhances the effects of skincare products
Hydrates and revitalises tired skin
Improves circulation for a youthful glow
Reveals a softer, smoother complexion
Reduces appearance of fine lines and wrinkles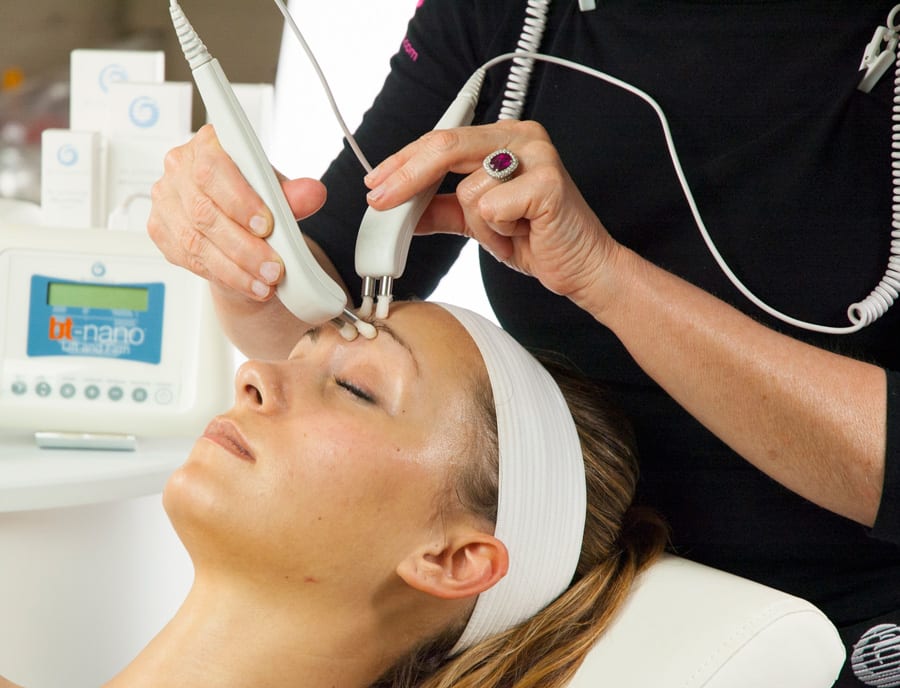 Does Microcurrent work in tandem with other treatments?
You bet. Just watch the short video below for a fantastic insight into how microcurrent therapy works as a layering technology for the ultimate anti-ageing facial experience.
How can Microcurrent technology enhance my business?
Microcurrent technology is a savvy business growth solution for those who are serious about delivering high calibre anti-ageing treatments that garner brilliant results for both the client and the business itself.
It's non-invasive – microcurrent is ideal for the many potential customers out there who want serious anti-ageing results without the needles and surgery.
It's proven – studies at the University of Washington have shown that the Bio-Ultimate™ Age Defying Facial increases collagen by 14%, elastin by 48% and circulatory benefits by 38%.
It's cumulative – impressive results are achieved after one treatment, but for optimal results, 10-15 sessions will keep your customers thrilled (and returning again and again).
It's financially rewarding – at around $100 per treatment, quality microcurrent devices deliver a rapid Return On Investment.
It's diverse – offer stand-alone microcurrent therapy as well as comprehensive layered treatments with complementing technology and you have a powerful anti-ageing service menu at the fingertips of your customer base.
What are your tips for purchasing Microcurrent equipment?
Always choose quality, research-backed machines over a low price (with
microcurrent technology, you really do get what you pay for).
Ensure your provider offers a thorough and intensive device training program.
Ensure your provider also offers ongoing technical and clinical device support.
Look for professional, digitalised microcurrent systems with LCD displays.
Seek out pre-programmed systems which allow easy and intuitive use for you and your staff.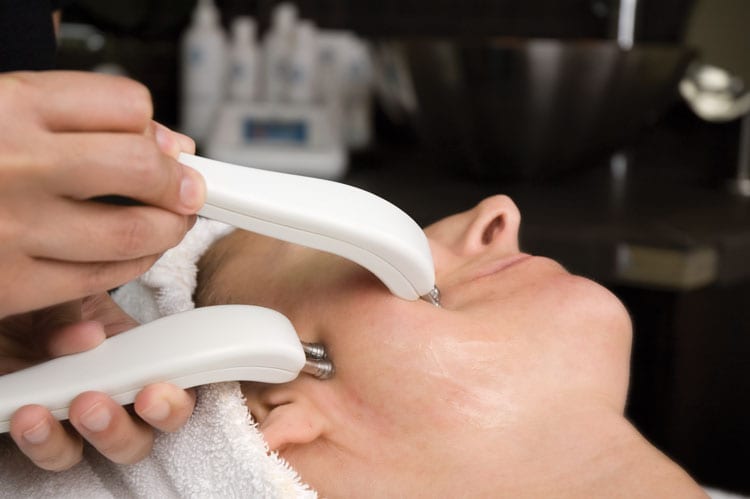 At The Global Beauty Group we pride ourselves on being the experts when it comes to investing in results-driven Microcurrent technology that will strategically work hand in hand with your business goals
Purchasing a microcurrent device with The Global Beauty Group comes with the following benefits:
Only the highest quality and trusted microcurrent technologies on the market
Included microcurrent device training program (covering practical and theory) conducted in our Melbourne training facilities
Travel Assistance Rebate for interstate customers attending the free training program
Ongoing operational, technical and clinical support for the life of your device
Included marketing packages and resources to help you get the word out
Australian-based warehousing, customer and business support
Flexible financing options tailored to suit every business and budget
Access to retraining, spare parts availability service and backup machine service
Priority invitations to business building seminars and industry events
If you're interested in learning more about the benefits of microcurrent therapy for your salon, spa, clinic or practice, call our device specialists today on AU 1300 655 013, NZ 0800 398 749.
Call AU
1300 655 013

, NZ

0800 398 749


or click here for a free, no obligation quote
Download our complimentary
2017 Technology Guide