Chromatic Serum™
CHROMATIC serum™ contains acetyl dipeptide which an anti-inflammatory and it works to hydrate and firm the skin. It also contains an anti-stress component which reduces heat, stinging, and desensitizes reactive skin types. Green tea is included as an antioxidant, and lavender to soothe and calm.
Contains acetyl dipeptide which helps to modulate the perception of heat, cold, and burning/stinging. It does this by coating the nerve endings at the receptor sites.
Reduces inflammation.
Contains licorice extract which helps to decrease swelling and dark pigmented areas.
Skin Type
All skin types.
How to use
Professional Use – Apply 2-4 drops on the face and neck. Use under the Hyaluronic Light Rejuvenation Masque™ with the Bio-Synthesis™. Use under a bT-Infusion™ Masque with the Bio-Oxygen™ and the Bio-Masque with the Bio Ultimate Platinum®. Can be ionized with the bt-micro™, bt-nano™, and the Bio-Ultimate Platinum® in skin programs.
Home Use – Apply 2-4 drops on the face and neck. Use as a hydrator for sensitive, itchy, reactive skin. Use in place of SERUM or Platinum Peptide Serum™. Apply under CREAM or Platinum Peptide Cream™ for dry dehydrated or sensitive skin.


Accelerate Repairing™
ACCELERATE repairing™ is excellent as a lipid replacement product and as an emollient sealant to be applied after all hydrators or moisturizers. It contains Passiflora edulis seed oil (passion flower) and Vitamins A and E as antioxidants. It also contains ceramides (lipids which form a protective barrier) and sphingolipids (fatty acids) which are lipids that provide a restorative effect on damaged skin.
Passiflora edulis seed oil (passion flower)- rich in Vitamin A, supports barrier function, an emollient, cell protector, and antioxidant.
Ceramide 3-helps with barrier functions, reduces trans epidermal water loss by capturing and binding the water to the skin.
Sphingolipids- emollients which provide restorative effect on compromised skin barrier.
Vitamin E (tocopherol acetate)-antioxidant and preservative.
Vitamin A (retinyl palmitate)- increases collagen production, smooths texture and increases skin thickness.
Skin Type
Mature, dry, dehydrated skin which is alipidic. May also be fragile, thin, and prone to irritation. (Not for oily, acneic skin.)
How to Use
Professional Use – Apply 2-3 drops of ACCELERATE repairing™ on dry, dehydrated skin as the final step in a facial, prior to applying SHADE SPF 30 environmental protection.
Home Use – Apply 2-3 drops of ACCELERATE repairing™ as final step before applying SHADE SPF 30 environmental protection in at home regimen.
Accelerate Brightening™
ACCELERATE brightening™ contains niacinamide, ergothioneine, and palmaria palmata extract as a concentrated formulated to address areas of hyperpigmentation. Niacinamide improves barrier functions, hydrate and softens skin.
Excellent for use in all technology services to lighten hyper pigmented areas.
Improves barrier functions and has ergothioneine as powerful antioxidant.
Skin Type
All skin types.
How to use
Professional Use – Apply 1-2 drops on areas of hyperpigmentation.
Home Use – Apply 1-2 drops on brown spots after using CLEANSE, EXFOLIATE and TONE. Then follow with bt-Ceuticals™ regimen.


Accelerate Clearing™
ACCELERATE clearing™ contains algae extract (red algae ahnfeltia concinna), which is an anti-inflammatory and provides a powerful peptide which help to normalize the skins moisture content. Salicylic acid serves as a keratolytic that exfoliates and decongests the hair follicle. Niacinamide, Vitamin B, derivative of niacin, aids in skin smoothing while improving skin barrier functions.
Contains betaine salicylate which is gentle yet powerful on acne for home use.
Ascorbyl glucoside a time released version of Vitamin-C for lightening and healing.
Can be used in all services for reducing the effects of acne.
Skin Type
Oily, acne (or for any skin type with acne).
How to use
Professional Use – Apply 1-2 drops on acne lesions.
Home Use – Apply 1-2 drops on areas with acne after using CLEANSE, EXFOLIATE, and TONE. Then follow with the bt-Ceuticals™ regimen for oily/acneic skin.
Combine with bt-Micro™ Facial Tool for best synergy!
Create the best synergy for your bt-Cocktail™ treatment by incorporating the bt-Micro™ Peel and Penetrate Facial Machine, a professional-grade ultrasonic and microcurrent skin exfoliation device which gently removes dead skin cells, prepares the skin for maximum product penetration and uses the ideal combination of ultrasonic + microcurrent energy to deeply penetrate your bt-Cocktail™ product! The synergy created by these two systems has been tested and shown to produce truly incredible results. The portable hand held bt-Micro™ facial tool is easy to use and highly recommended by leading aestheticians in salons and beauty clinics all around the world.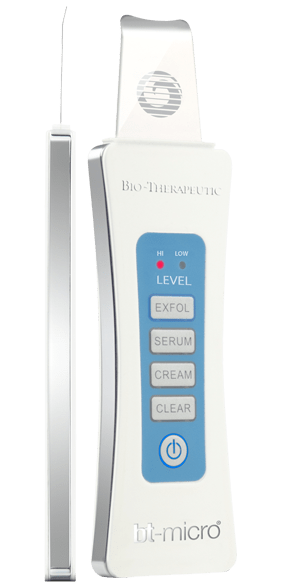 Beauty Equipment Sales and Financing
Please also view our Sales and Financing options for a solution that works for your salon, or call our team of experts now on AU 1300 655 013 or NZ 0800 398 749 and let us help tailor a custom made solution to suit your individual business and budget.

The Global Beauty Group Best Price and Quality Guarantee
Experience our gold standard customer service and industry leading equipment range to discover for yourself why The Global Beauty Group is consistently Australia's leading aesthetic equipment and skincare supplier. We guarantee to beat any genuine competitor's quote on our full range of products, so why not talk to one of our friendly consultants today to find out more?
Call now for a free, no obligation quote on AU 1300 655 013, NZ 0800 398 749.