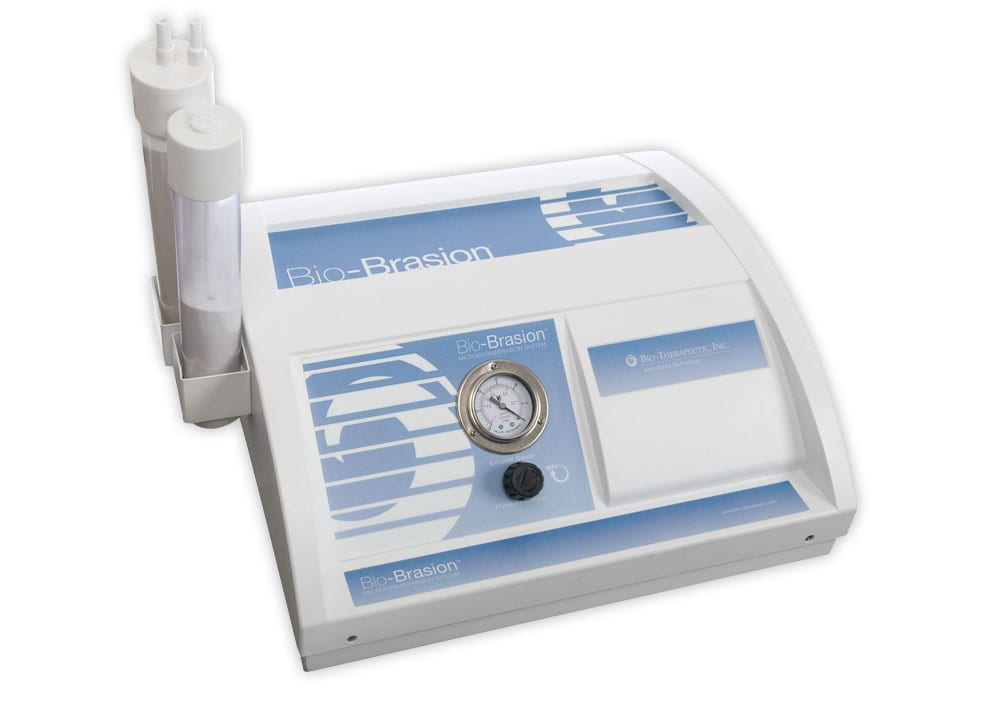 Bio-Brasion™
Bio-Brasion™ is a robust, high quality microdermabrasion machine designed for professional skin renewal services in any salon, spa, clinic or practice environment. This popular and affordable choice when it comes to clinical microdermabrasion utilises digitally controlled pressure and advanced vacuum monitors to deliver consistent corundum (crystal) flow and a seamless treatment experience. Bio-Brasion™ treatments:
Renews dull, congested or sun damaged complexions
Reduces appearance of enlarged pores
Clears clogged pores and acne congestion
Polishes, smoothes and refines rough, thickened skin
Treats mild acne scarring
Evens out pigmentation irregularities
Reduces fine lines and wrinkles
Enhances production penetration
Can be used as a stand-alone facial service or layering with other treatment technologies such as microcurrent, oxygen infusion and LED.
Call AU
1300 655 013

, NZ

0800 398 749


or click here for a free, no obligation quote
Download our complimentary
2019 Technology Guide
Classic Features for Tried-and-True Results
Unique 38% crystal delivery angle
Digitally controlled pressure and vacuum monitor
Effortless and even corundum flow
Disposable accessories for maximum hygiene
Suitable for treatment on all skin types
Technical Specifications
Voltage supply: 220, 240 volt AC 100, 140 volt AC
Frequency: 50/60 Hz
Power: 300VA
Dimensions: 5" x 14.75"; x 6.5"
Weight: 5kg
System Products Package
1 Cleanse 16 oz
1 Tone 16 oz
1 Exfoliate 8 oz
1 Collagen/Elastin Ampoules 10 x 2 ml vials
1 Serum 1 oz
1 Platinum Peptide Serum 1oz
1 Cream 1 oz
1 Platinum Peptide Cream 2 oz
1 Restore Essential Eye Cream 1 oz
1 Decongest 8 oz
1 Restyfluid 4 oz
1 Opticide 24 oz With Sprayer
1 Invisible Expression Relaxing Cream 1 oz
1 Invisible Expression Relaxing Serum 1 oz
Accessory Package
bt-Micro™
bt-Analyse™
bt-Zoom™
8 Pre-filled corundum cartridges
8 Disposable waste bottles
2 Tube sets
20 Plastic handpieces
1 Power cord
2 Face masks
5 Latex Gloves (5 pair – 12")
2 Primary Air Tubes
1 Quat Plus
1 Glass Hand Piece
1 Bio-Brasion™ couplet with locknut
1 Operation Manual
A Comprehensive, World Class Training Program is Included with Your Order!
The Global Beauty Group is totally committed to providing you with an outstanding training experience. For this reason, a highly developed training program is provided FREE for you and one other staff member with your purchase. Training is conducted at our Melbourne training centre and a Travel Assistance Rebate is supplied for interstate customers.
Beauty Equipment Sales and Financing
Please also view our Sales and Financing options for a solution that works for your salon, or call our team of experts now on AU 1300 655 013 or NZ 0800 398 749 and let us help tailor a custom made solution to suit your individual business and budget.

The Global Beauty Group Best Price and Quality Guarantee
Experience our gold standard customer service and industry leading equipment range to discover for yourself why The Global Beauty Group is consistently Australia's leading aesthetic equipment and skincare supplier. We guarantee to beat any genuine competitor's quote on our full range of products, so why not talk to one of our friendly consultants today to find out more?
Call now for a free, no obligation quote on AU 1300 655 013, NZ 0800 398 749.