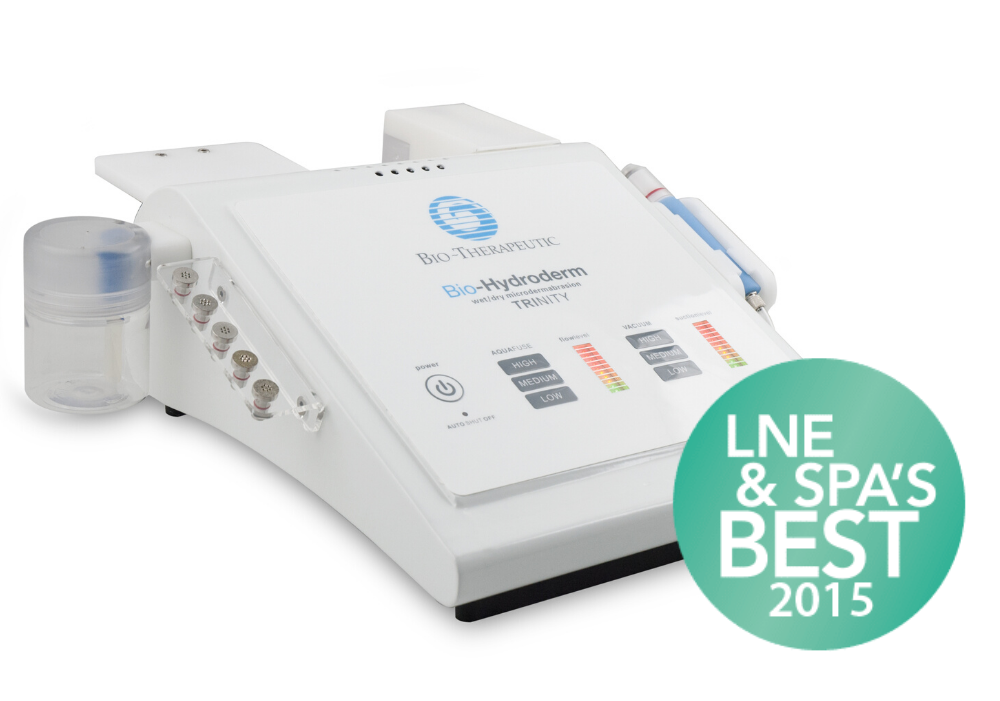 Bio-Hydroderm TRINITY
Bio-Hydroderm TRINITY* is the next generation of microdermabrasion technology.
This cutting-edge device offers 5 different abrasive discs which sweep over the skin for non-irritating exfoliation, while also infusing the skin with hydrating, skin-correcting fluids.
This fantastic feature eliminates the concern of crystal debris remaining on the skin's surface. The results are smooth, thoroughly exfoliated, hydrated and youthful-looking skin. A sleek design, digital control system and full digital display deliver ultra-professional skin renewal facials in any salon, spa, clinic or practice environment. Lightweight, quiet and results-driven, the Bio-Hydroderm TRINITY:
Delivers thorough exfoliation adjusted to clients skin condition and type
Creates a more youthful appearance
Rejuvenates and hydrates dehydrated skin
Promotes skin-clearing
Is the perfect investment for beauty businesses looking to grow their business with in-demand treatment technology
*For use in cosmetic treatments only
Call AU
1300 655 013

, NZ

0800 398 749


or click here for a free, no obligation quote
The Global Beauty Group
Client Experiences
Industry-leading Features
The Bio-Hydroderm TRINITY system incorporates a crystal-free diamond tip handpiece with interchangeable abrasive discs that emit a cooling, calming and hydrating AQUAFUSE solution selected by the skin therapist based on the client's skin condition.
This includes rejuvenating solutions for age management, skin clearing and skin tone correction. These advanced formulas contain powerful ingredients which work in tandem with the exfoliation process to encourage hydration, clearing and skin balancing.
This compact device also utilises a closed-loop system to deliver precisely controlled, clinical-standard exfoliation that is non-irritant and comfortable for the client.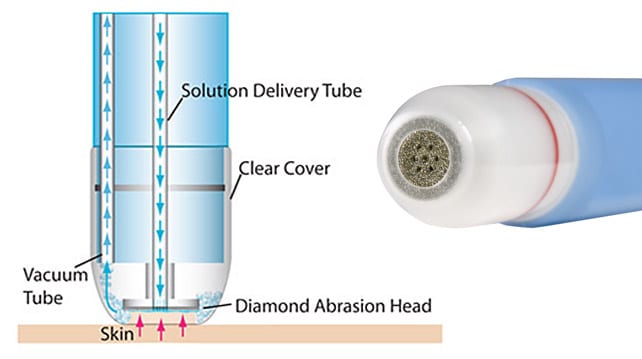 Application Benefits
Ultra-thorough exfoliation is adjusted to clients skin condition and type
Creates a more youthful appearance
Rejuvenates and hydrates tired skin
Plumps out complexion
Promotes skin-clearing
Hydrodermabrasion: Unmatched Results in Clinical Exfoliation
Hydrodermabrasion combines the efficacy of microdermabrasion with a newer, more advanced treatment delivery mode that goes above and beyond the capabilities of traditional microdermabrasion. Although the Bio-Hydroderm TRINITY uses a similar closed-loop vacuum system, instead of employing loose corundum crystals to resurface the skin, the vacuum aspiration of hydrodermabrasion technology gently lifts the skin, bringing it into contact with a specially designed diamond-encrusted abrasive disc. There are multiple abrasive discs (80 – 400 grit) for the therapist to choose from depending on the level of exfoliation required. In addition, seven strategically positioned engineered AQUAFUSE jets in each abrasive disc further assist with the exfoliation process to cool, nourish and hydrate the skin during treatment.
The results are smooth, thoroughly exfoliated, hydrated and radiant skin without the mess and irritation that can at times accompany microdermabrasion. Unlike microdermabrasion, the tailored application of hydrodermabrasion means that it is suitable for all skin types (including sensitive skin) and treatments can be performed weekly or bi-monthly for outstanding results.
The Bio-Hydroderm TRINITY is truly the next generation of mechanical skin exfoliation with results unmatched anywhere in the industry. This dynamic device is not only compact for easy movement between treatment rooms but also uses minimal power and has a cost of goods per service that is around half of that of traditional microdermabrasion. In addition, the level of customer satisfaction following Bio-Hydroderm TRINITY treatments consistently goes above and beyond the expected outcomes of a typical microdermabrasion service.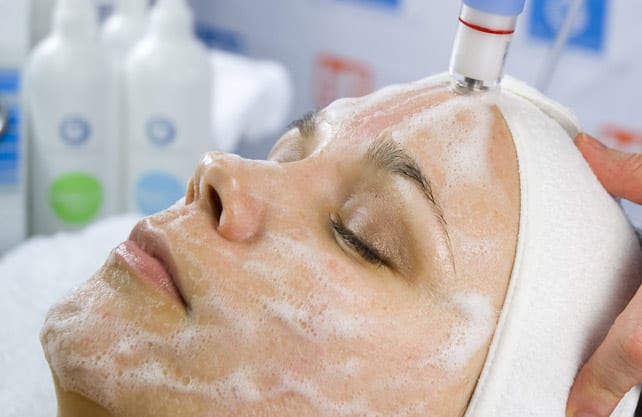 Key System Features
Crystal-free exfoliation technology with ergonomic diamond-tip wand
AQUAFUSE jets skin care system for superior product penetration with powerful anti-ageing and hydrating ingredients
Vacuum technology suctions debris and product efficiently into integrated waste bottle
User-friendly controls and ultra-quiet operation for relaxing treatment experience
Non-invasive and painless treatments require no post-treatment downtime
Treatments can be tailored to your client's skin concerns and are suitable for all skin types
Accessory Package
bt-micro
bt-analyze
bt-zoom
2 handpiece sheaths
2 Bio-Hydroderm TRINITY tubing sets
1 Handpiece
1 Bio-Hydroderm TRINITY waste bottle
5 Diamond Tips: 80, 100, 250, 300 & 400 grit
Technical Specifications
Voltage: 110V
Power: 240 VAC 50/60Hz
Max Power Consumption: 160W
Weight: 6kg
Size: 8.27" x 12.60" x 7.48"

System Products Package
1 Aquafuse Acne 16 oz
1 Aquafuse Hydrate 16 oz
1 Cleanse 16 oz
1 Tone 16 oz
1 Serum 1 oz
1 Cream 4 oz
1 Restore Eye Cream 1 oz
1 Shade 6 oz
1 Decongest 4 oz
1 Restyfluid 4 oz
1 Accelerate Brightening™ 1 oz
1 bt-Cocktail™ Energy 1 2 oz
1 bt-Cocktail™ Energy 2 2 oz
1 bt-Cocktail™ Energy 3 2 oz
1 Platinum Peptide Serum™ 1 oz
1 Platinum Peptide Cream™ 2 oz
1 Accelerate Brightening 1 oz
1 Aquafuse Foampeel 7 oz
1 Platinum Brightening Cream 1 oz
1 Accelerate Repairing 1 oz
1 Opticide 24 oz with Sprayer
A Comprehensive, World Class Training Program is Included with Your Order!
The Global Beauty Group is totally committed to providing you with outstanding training experience. For this reason, a highly developed training program is provided FREE for you and one other staff member with your purchase. Training is conducted at our Melbourne training centre and a Travel Assistance Rebate is supplied for interstate customers.

FREE Marketing Materials
The Global Beauty Group not only believe in providing you with excellent devices and outstanding training programs, we also believe in helping you to market your new services to your existing and new clients. With this in mind, we have created an informative customer brochure and advertising poster for you to use to help promote your business. Here are some of the examples of the marketing materials that you will receive with your purchase.
Beauty Equipment Sales and Financing
Please also view our Sales and Financing options for a solution that works for your salon, or call our team of experts now on AU 1300 655 013 or NZ 0800 398 749 and let us help tailor a custom made solution to suit your individual business and budget.

The Global Beauty Group Best Price and Quality Guarantee
Experience our gold standard customer service and industry-leading equipment range to discover for yourself why The Global Beauty Group is consistently Australia's leading aesthetic equipment and skincare supplier. We guarantee to beat any genuine competitor's quote on our full range of products, so why not talk to one of our friendly consultants today to find out more?
Call now for a free, no obligation quote on AU 1300 655 013, NZ 0800 398 749.