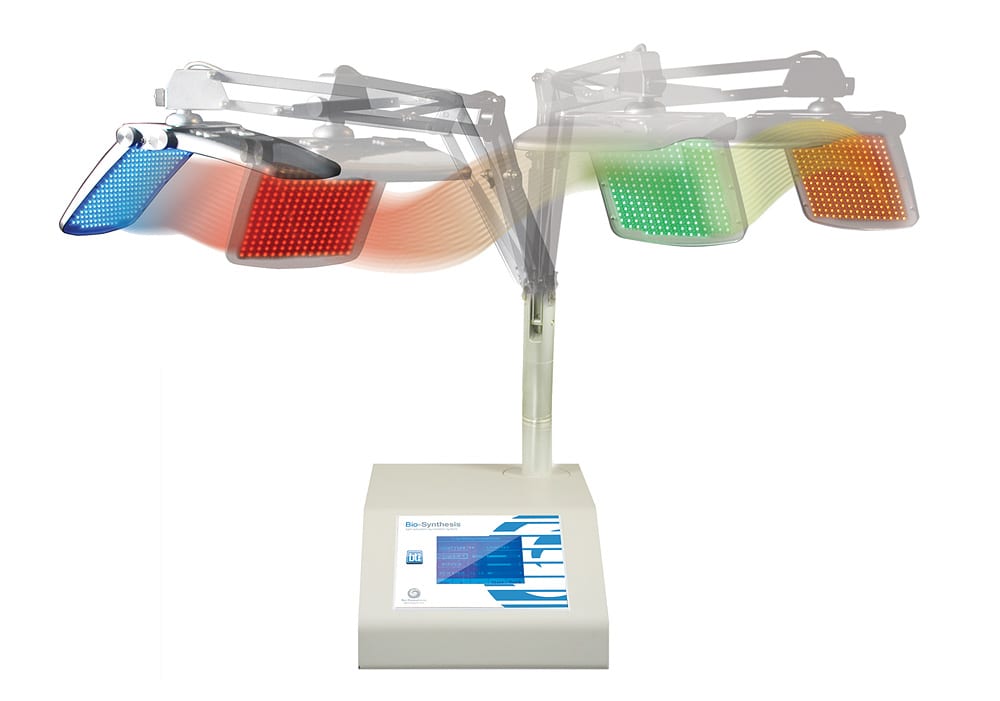 Bio-Synthesis™
The Bio-Synthesis™* is an industry-leading LED machine developed by Bio-Therapeutic™. This LED system utilises Red, Yellow, Green and Blue LED lights (470nm – 640nm) to target and treat specific skin conditions.
This device also boasts a user-friendly touch screen control panel with six pre-set facial applications for quick touch-and-go LED facials and ultimate ease of use.
*For use in cosmetic treatments only
Call AU
1300 655 013

, NZ

0800 398 749


or click here for a free, no obligation quote
The Global Beauty Group
Client Experiences
The pre-set facial applications allow skin therapists to quickly and easily address individual client concerns for a tailored treatment process. An integrated agile manual mode also enables therapists to quickly create further individualised treatments by adjusting the nanometre, hertz, light intensity, and service time.
Treatment with the Bio-Synthesis™ LED machine highly professional and conveniently hands-free. The intelligently designed 6-way adjustable panel equipped with over 4,000 individual lights is specially designed to allow for maximum and consistent coverage of the face, neck, and décolletage during treatment.
Bio-Synthesis™ is adjudged the industry's top LED machine in terms of technology, ability and performance and delivers the full benefits of light activated therapy for salons, spas and clinics seeking high calibre results.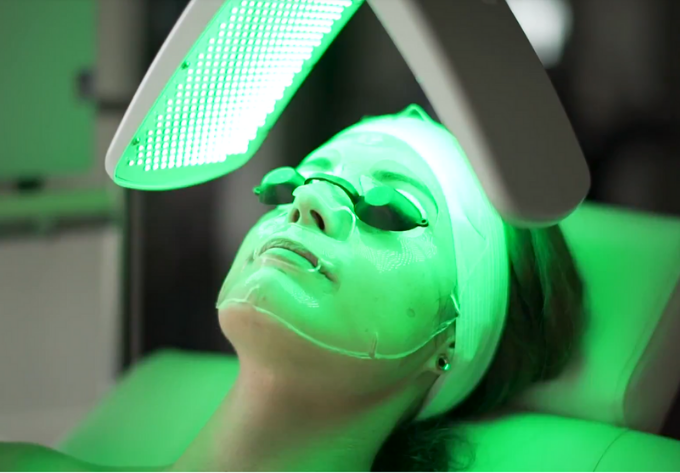 Treatment Benefits
Improves skin tone and texture
Encourages a healthier, more youthful appearance with renewed clarity
Cleans and tightens coarse pores and loose skin
Brightens and renews complexions
Targets skin tone correction
Addresses skin clearing
Before and After – Treatments with LED Light Therapy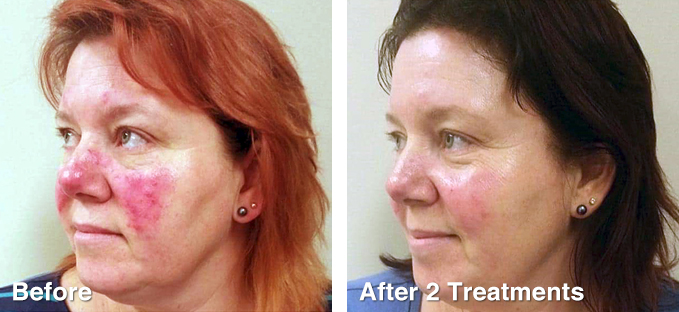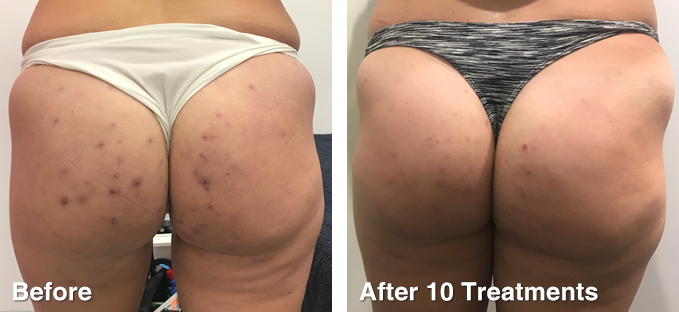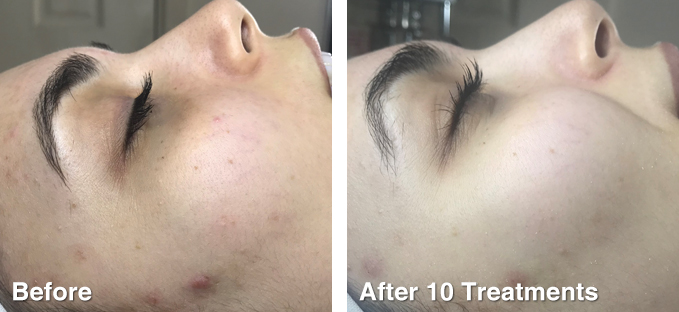 Technical Specifications
Length: 18"
Width: 5"
Height: 75"
Weight: 24kg
LCD Touch Screen: 75" x 3.5"
Nanometres: 633nm, 590nm, 525 nm, 415nm
LED colours: RED, YELLOW, GREEN, BLUE
Frequency: 10Hz-100Hz
Lights Per Nanometre: 1,000
Diode Lights: Over 4,000 individual diode lights in total
Sequencing Technology in all pre-programmed modes
Unlimited concurrent sequencing manual mode
New white powder coated case
System Products Package
1 Chromatic Serum 2 oz
1 Accelerate Repairing 1 oz
1 Accelerate Clearing 1 oz
1 Accelerate Brightening 1 oz
10 PK HS System Hyaluronic Eye Masque
10 PK HS System Hyaluronic Face Masque
10 PK HS System Hyaluronic Neck Masque
1 Platinum Peptide Serum 1 oz
1 Platinum Peptide Cream 2 oz
1 Platinum Brightening Cream 1 oz
1 Cleanse 16 oz
1 Decongest 4 oz
1 Tone 16 oz
1 Exfoliate 8 oz
1 Collagen/Elastin Ampoules 10 x 2 ml vials
1 Serum 1 oz/li>
1 Cream 4oz
1 Restore Essential Eye Cream™1 oz
1 Shade 6 oz
1 Restyfluid Plumping Maximizer 4 oz
1 Platinum Relaxing Serum 1 oz
A Comprehensive, World Class Training Program is Included with Your Order!
The Global Beauty Group is totally committed to providing you with an outstanding training experience. For this reason, a highly developed training program is provided FREE for you and one other staff member with your purchase. Training is conducted at our Melbourne training centre and a Travel Assistance Rebate is supplied for interstate customers.


FREE Marketing Materials
The Global Beauty Group not only believe in providing you with excellent devices and outstanding training programs, we also believe in helping you to market your new services to your existing and new clients. With this in mind, we have created an informative customer brochure and advertising poster for you to use to help promote your business. Here are some of the examples of the marketing materials that you will receive with your purchase.
Beauty Equipment Sales and Financing
Please also view our Sales and Financing options for a solution that works for your salon, or call our team of experts now on AU 1300 655 013 or NZ 0800 398 749 and let us help tailor a custom made solution to suit your individual business and budget.

The Global Beauty Group Best Price and Quality Guarantee
Experience our gold standard customer service and industry leading equipment range to discover for yourself why The Global Beauty Group is consistently Australia's leading aesthetic equipment and skincare supplier. We guarantee to beat any genuine competitor's quote on our full range of products, so why not talk to one of our friendly consultants today to find out more?
Call now for a free, no obligation quote on AU 1300 655 013, NZ 0800 398 749.