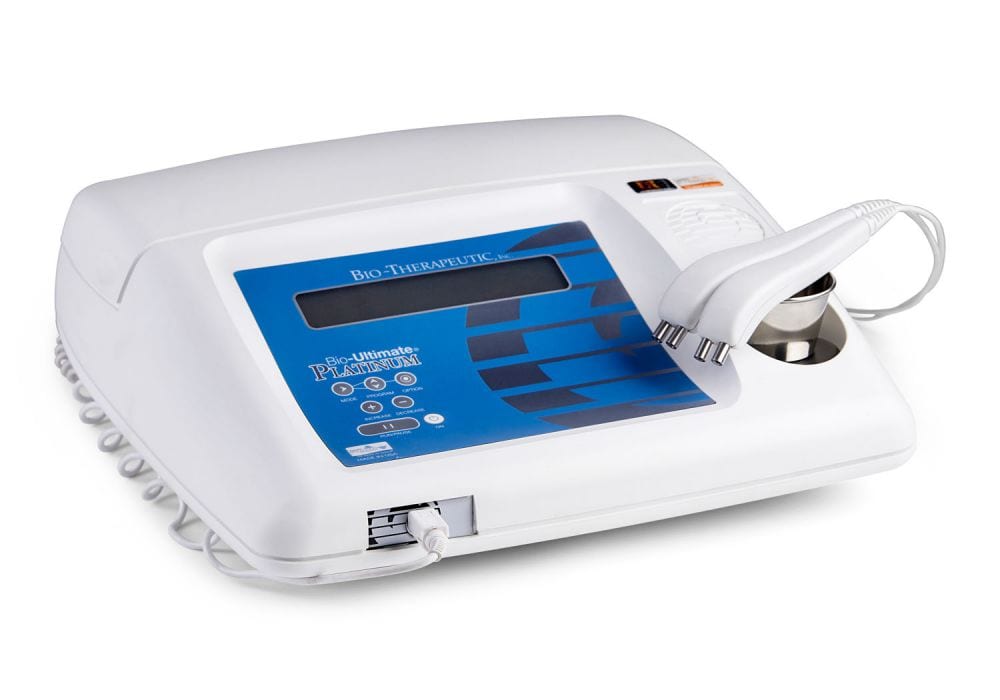 Bio-Ultimate Platinum™
Give your clients lifted, firmer, younger skin without the cost, pain and downtime of surgery. The Bio-Ultimate Platinum™* system boasts a comprehensive range of 15 microcurrent facial options which work to lift and contour, invigorate circulation and address the signs of ageing, while Patented Suzuki Sequencing™ equips therapists with a powerful approach to anti-ageing services that garner visible results.
*For use in cosmetic treatments only
1
Call AU
1300 655 013

, NZ

0800 398 749


or click here for a free, no obligation quote
The Global Beauty Group
Client Experiences
Application Benefits
Îndustry-renowned Suzuki Sequencing™
Iontophoresis product infusion
Treatments address the signs of ageing
No post-treatment downtime means clients can get on with their usual daily activities
Skin is left instantly firmer, smoother, lifted, hydrated and revitalised
Bio-Ultimate™ microcurrent facials provide a calm, relaxing and restorative treatment experience for the client.
A course of treatments spaced at one-week intervals is recommended to deliver optimal results, making Bio-Ultimate Platinum™ an effective way to turn one-off customers into repeat clients while in turn boosting your week to week profits.
Key Features
Over 15 pre-programmed facials allow targeted treatments for common skin concerns
Ideal for stand-alone facial services or as part of a layered technology treatment plan
Compact size enables portability and easy movement between treatment rooms
Digital controls enable quick and easy touch-and-go operation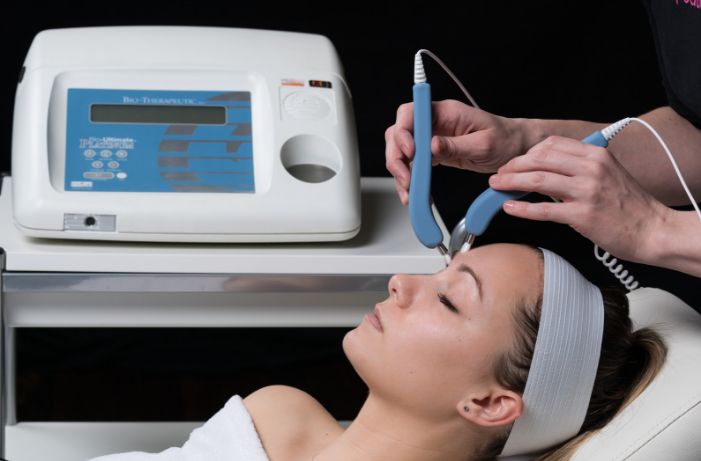 Treatment Applications
bt-Cocktail™ Lift
Turbo Lift Facial™
Platinum Peptide Facial
Invisible Expression™ Facial
Bio-Infusion Signature Facial
Quickly Clear Facial™
Platinum Touch Hand Renewal™
Specific Iontophoresis Post Abrasion
Post Hydrodermabrasion/Microdermabrasion Service
Technical Specifications
Power source: 8 "D" cell batteries
Hardware current range: 40 uA to 800 uA
Hardware frequency range: .1 Hz to 999 Hz
Software current Range: 40 uA to 760 uA
Software frequency Range: .1 Hz to 300 Hz
Polarity: pos, neg, alt
Dimensions: 14" x 14" x 5"
Weight: 3kg
Accessory Package
1 Bio-Gloves™
1 Bio-Glove™ Wrist Strap (Set of 2)
1 Ergonomic Probe Set
1 Wire Set
1 Package Q-Tips
6 Clever Clips
4 Bio-Tips (Stainless steel probe tips)
8 "D" Cell Batteries
1 operation and instruction manual
1 1oz. Stainless Steel Bowl
1 2.5oz Stainless Steel Bowl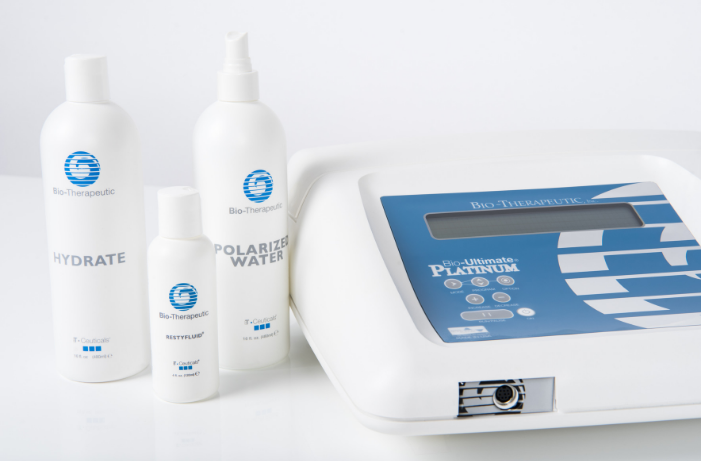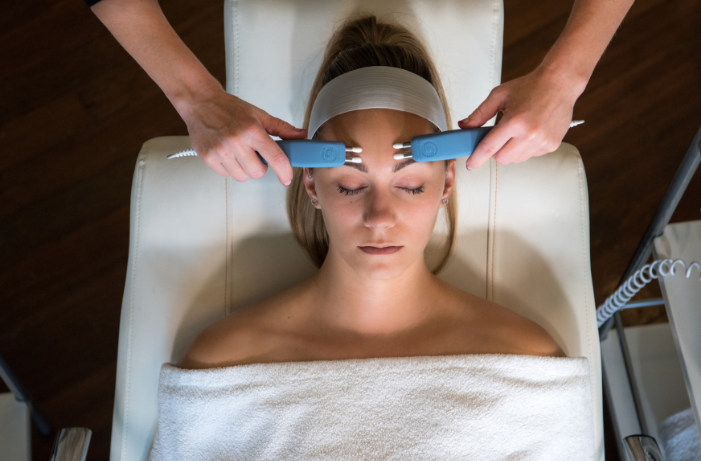 System Products Package
1 Cleanse 16 oz
1 Tone 16 oz
1 Exfoliate 8 oz
1 Hydrate 16 oz
1 Polarized Water 16 oz
1 Collagen/Elastin Ampoules 10 x 2 ml vials
1 Serum 1 oz
1 Cream 4 oz
1 Platinum Peptide Cream 2 oz
1 Restore Eye Cream 1 oz
1 Shade 6 oz
1 Decongest 8 oz
1 Restifluid Plumping Maximizer 4 oz
1 bt-Infusion™ Complete Masque Collection
1 Opticide 24 oz with Sprayer
1 Invisible Expression Relaxing Cream 1 oz
1 Invisible Expression Relaxing Serum 1 oz
1 Platinum Peptide Serum 1 oz
2 bt-Cocktail™ Retail kits
1 bt-Cocktail™ Energy 1 2 oz
1 bt-Cocktail™ Energy 2 2 oz
1 bt-Cocktail™ Energy 3 2 oz
A Comprehensive, World-Class Training Program is Included with Your Order!
The Global Beauty Group is totally committed to providing you with outstanding training experience. For this reason, a highly developed training program is provided FREE for you and one other staff member with your purchase. Training is conducted at our Melbourne training centre and a Travel Assistance Rebate is supplied for interstate customers.

FREE Marketing Materials
The Global Beauty Group not only believe in providing you with excellent devices and outstanding training programs, we also believe in helping you to market your new services to your existing and new clients. With this in mind, we have created an informative customer brochure and advertising poster for you to use to help promote your business. Here are some of the examples of the marketing materials that you will receive with your purchase.
Beauty Equipment Sales and Financing
Please also view our Sales and Financing options for a solution that works for your salon, or call our team of experts now on AU 1300 655 013 or NZ 0800 398 749 and let us help tailor a custom made solution to suit your individual business and budget.

The Global Beauty Group Best Price and Quality Guarantee
Experience our gold standard customer service and industry leading equipment range to discover for yourself why The Global Beauty Group is consistently Australia's leading aesthetic equipment and skincare supplier. We guarantee to beat any genuine competitor's quote on our full range of products, so why not talk to one of our friendly consultants today to find out more?
Call now for a free, no obligation quote on AU 1300 655 013, NZ 0800 398 749.