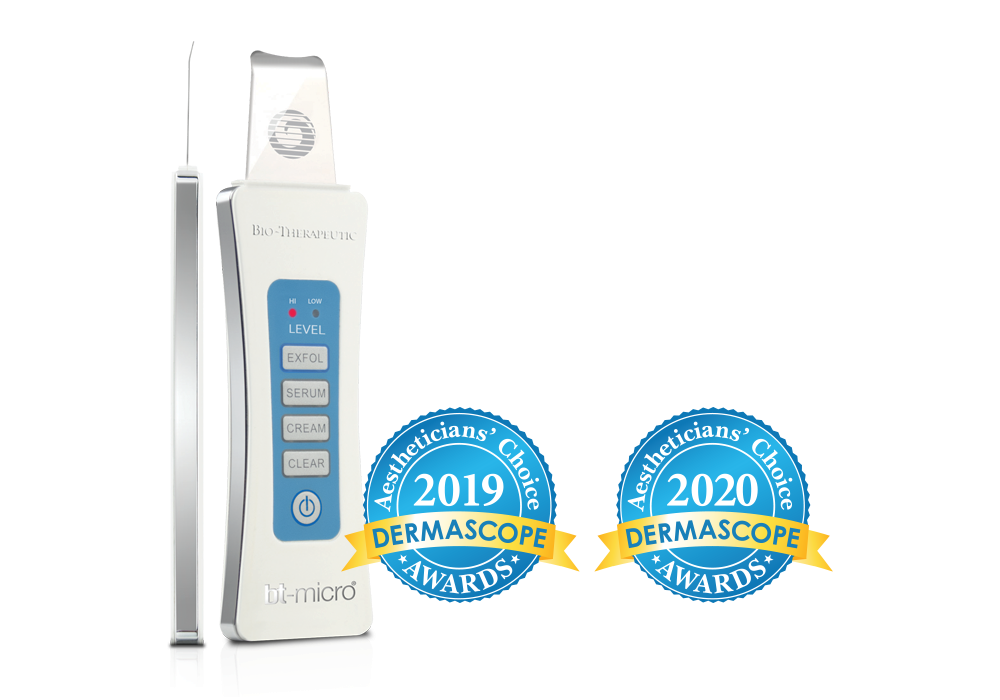 bt-micro
bt-micro* is the latest innovation in handheld professional technology; it combines ultrasonic peeling with patented microcurrent capabilities. bt-micro ultrasonic exfoliation works by creating high-speed oscillation (24,000Hz – 26,000 Hz) of the flat peeling probe, which in turn leaves the skin smooth, fresh, and perfectly prepared for product infusion.
The results are plumper, firmer skin that enhances the result of key ingredients of all products.
The bt-micro is powered by a rechargeable battery, compact lightweight, and extremely effective as a standalone tool or used in conjunction with other technology services.
*For use in cosmetic treatments only
Call AU
1300 655 013

, NZ

0800 398 749


or click here for a free, no obligation quote
Download our complimentary
2020 Technology Guide
bt-micro Features
Weighs less than ½ pound
Compact and agile; 1.5 inches x 6 inches
Cordless, rechargeable battery system
Hygienic probe cover
Compatible use in every facial
Clear silicone protective skin
Four Modes:
Peel: Ultrasonic action only (24,000 – 26,000 Hz)
+Ion 1: Ultrasonic combined with Microcurrent for infusion of serums and ampoules
+Ion 2: Ultrasonic combined with Microcurrent for infusion of moisturisers, creams and emollients
–Ion: Ultrasonic combined with Microcurrent for Deep Cleanse
Beauty Equipment Sales and Financing
Please also view our Sales and Financing options for a solution that works for your salon, or call our team of experts now on AU 1300 655 013 or NZ 0800 398 749 and let us help tailor a custom made solution to suit your individual business and budget.

The Global Beauty Group Best Price and Quality Guarantee
Experience our gold standard customer service and industry leading equipment range to discover for yourself why The Global Beauty Group is consistently Australia's leading aesthetic equipment and skincare supplier. We guarantee to beat any genuine competitor's quote on our full range of products, so why not talk to one of our friendly consultants today to find out more?
Call now for a free, no obligation quote on AU 1300 655 013, NZ 0800 398 749.