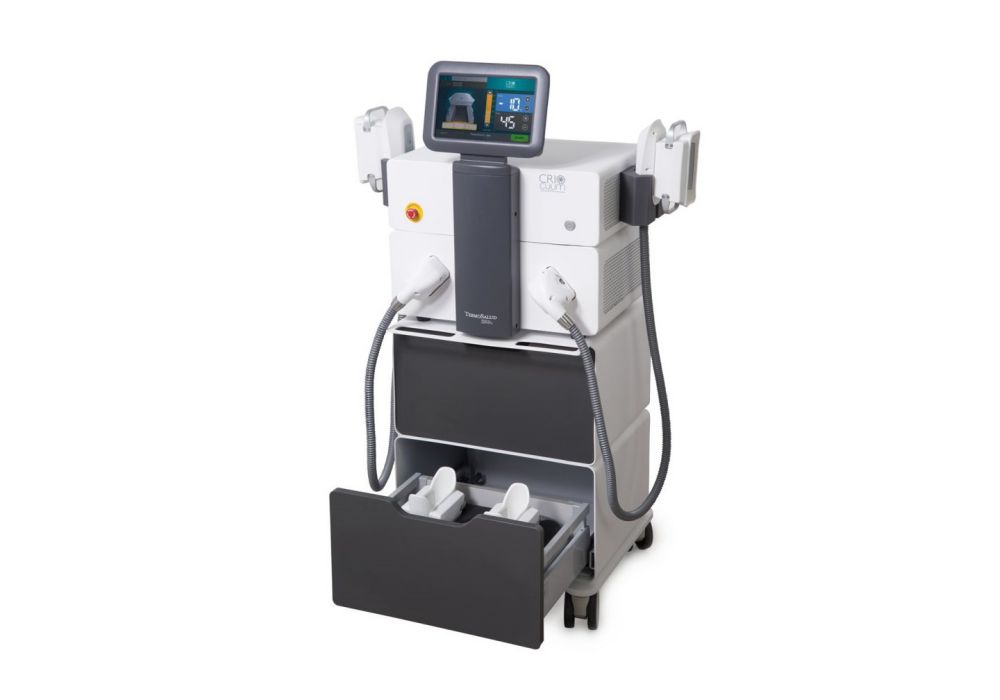 Criocuum
Utilising the latest innovations in 'fat-freezing' technology, the Criocuum is a sophisticated medi-aesthetic device designed for the professional salon, spa, clinic or practice environment.
Criocuum is based on the crioliporeduction principles of fat removal, which engages adjustable cold temperatures applied to the treatment area to isolate and chill fatty subcutaneous tissue to the point of destruction. Case studies show an average reduction of fatty tissue between 3mm and 15mm, or up to 45% of the fatty tissue present for a visibly trimmer, contoured appearance.
Criocuum targets the most common problem areas of unwanted, stubborn pockets of fat. 2 large fold vacuum handpieces come standard, with optional extra curved contour, small fold and mini fold vacuum handpieces available. By using interchangeable vacuum applicators tailored to suit the treatment area, Criocuum non-invasively trims, tones and contours the:
Popular Treatment Zones

Upper arms
Back
Waistline
Hips
Abdomen
Buttocks
Thighs
Chin
Call AU
1300 655 013

, NZ

0800 398 749


or click here for a free, no obligation quote
Download our complimentary
2019 Technology Guide
Why Cryoliporeduction slimming is on the rise
With the Criocuum system, sessions take just 40-65 minutes and patients are free to carry on with their usual activities without the pain, discomfort and cost of invasive surgery. Treatments also stimulate lymphatic drainage and tighten the skin.
Treatment Benefits
Up to a 45% reduction of fatty tissue in the targeted treatment area
Up to a 74% increase in skin elasticity in the targeted treatment area
An average reduction of fatty tissue between 3mm and 15mm
Ability to treat two parts of the body at once
Visible results just 15 days from the first session
Treatments are quick and non-invasive
Key Features
Adjustable temperature range of 5ºC to -10ºC
Includes both pre-set treatments, as well as manually tailored services
Interchangeable handpiece applicators available to suit multiple body parts
The sophisticated system treats two body parts at the one time
User-friendly colour touch screen for ease of use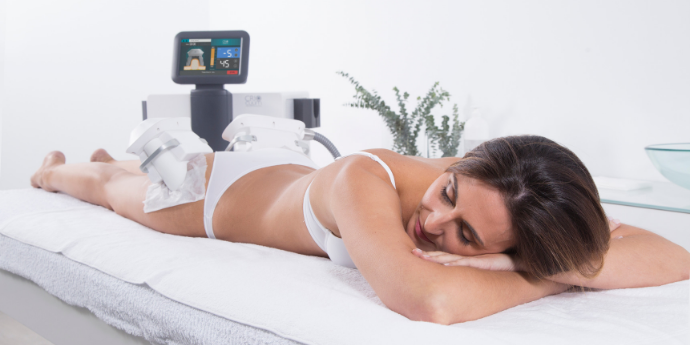 The Science Behind Criocuum
Cryoplioreduction involves applying controlled cold temperatures to fatty tissue for a specified time. Clinical studies have shown that subjecting unwanted fat to intense cold produces inflammation of the subcutaneous fatty tissue and increases the basal metabolism, thereby destroying the adipocytes or fat cells.
Phase 1 – Chilling
The applicator is placed over the treatment zone to initiate the cryoliporeduction process, which suctions the fatty tissue up into the cavity of the handpiece while applying intense cold temperatures ranging between 5°C to as low as -10°C.
Phase 2 – Instant response
The ultra-cold temperatures cause the adipose cells (fatty tissue) of the treatment zone to react, inducing apoptosis (destruction of the fat cells). Surrounding healthy tissue remains unharmed.
Phase 3 – Natural elimination
The chilled fat cells then begin to remove themselves from the body through the body's natural filtration system, with noticeable effects beginning to take place in as little as 15 days after the treatment.
Phase 4 – Completion of cycle
Between 8-12 weeks after the treatment, the Criocuum treatment takes full effect — resulting in the removal of the treated fatty tissue to deliver a slimmer, more contoured body shape and improved skin laxity.
For best results, three treatments are recommended for each treatment zone, with sessions spaced at 6-8 weeks apart.
Technical Specifications
Power supply: 230V a.c 50/60 Hz / 110V a.c 50/60 Hz (optional)
Maximum consumption: 740VA
Interface: 10.2 inch colour touch screen with LED backlight
Adjustable temperature: -10°C to 5°C
Adjustable suction level: 100 – 250 mbar
Ambient functioning temperature: 20-30°C
Ambient storage/transporting temperature: 0-40°C
Air pressure: 700-1060hPa
Relative humidity or air: <80°C (without condensation)
Dimensions: 60cm H x 50cm L x 66cm W
Weight: 27kg
Guarantee: 1 year extendable
A Comprehensive, World-Class Training Program is Included with Your Order!
The Global Beauty Group is totally committed to providing you with outstanding training experience. For this reason, a highly developed training program is provided FREE for you and one other staff member with your purchase. Training is conducted at our Melbourne training centre and a Travel Assistance Rebate is supplied for interstate customers.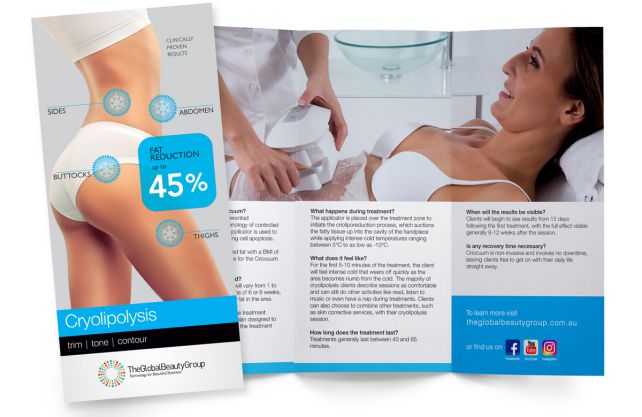 FREE Marketing Materials
The Global Beauty Group not only believe in providing you with excellent devices and outstanding training programs, we also believe in helping you to market your new services to your existing and new clients. With this in mind, we have created an informative customer brochure and advertising poster for you to use to help promote your business. Here are some of the examples of the marketing materials that you will receive with your purchase.
Beauty Equipment Sales and Financing
Please also view our Sales and Financing options for a solution that works for your salon, or call our team of experts now on AU 1300 655 013 or NZ 0800 398 749 and let us help tailor a custom made solution to suit your individual business and budget.

The Global Beauty Group Best Price and Quality Guarantee
Experience our gold standard customer service and industry leading equipment range to discover for yourself why The Global Beauty Group is consistently Australia's leading aesthetic equipment and skincare supplier. We guarantee to beat any genuine competitor's quote on our full range of products, so why not talk to one of our friendly consultants today to find out more?
Call now for a free, no obligation quote on AU 1300 655 013, NZ 0800 398 749.