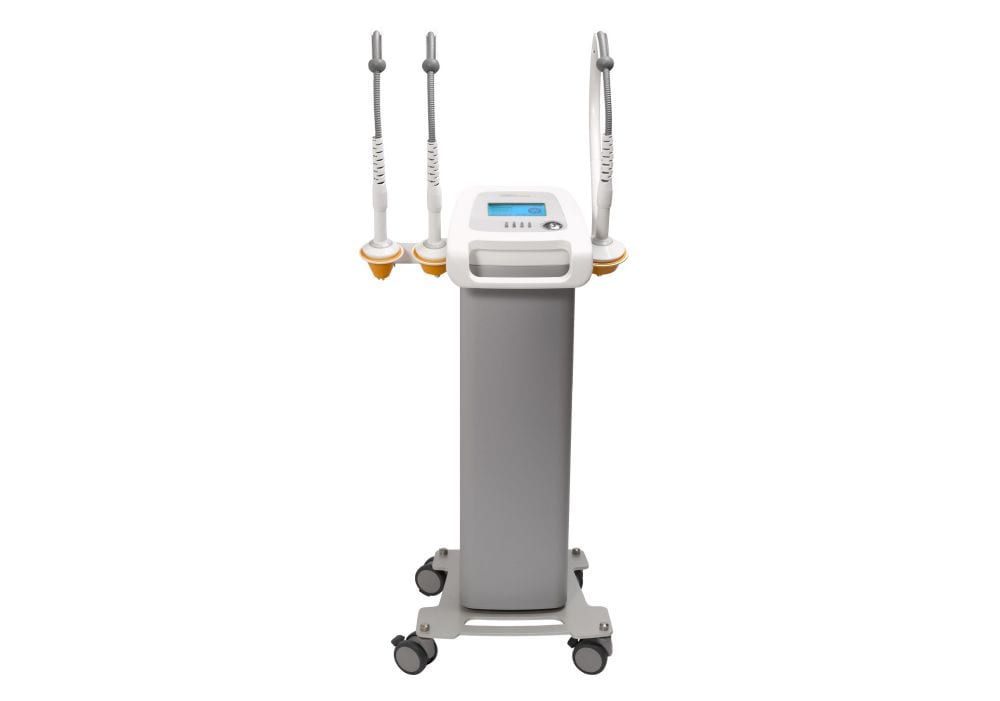 Pollogen MAXIMUS
Pollogen MAXIMUS is a dedicated body sculpting and skin tightening workstation that delivers circumferential fat reduction, cellulite improvement and skin laxity treatment to the face and body without pain, surgery or downtime. Results are both immediate from the first session and long-term with greater clinical outcomes as the treatment course progresses.
Three proven technologies to shape, tighten and rejuvenate:
TriLipo® Fat Reduction
Dynamic Muscle Activation (DMA) fat reduction
TriPollar Radiofrequency (RF) skin tightening
Platform Features
3 x TriLipo® applicators for delicate areas, small-medium areas and large areas
Pre-programmed recommended treatment parameters
Adjustable treatment parameters for a tailored treatment experience
Biofeedback control and convenient footswitch treatment activation
Wheeled base for easy movement between treatment rooms
Call AU
1300 655 013

, NZ

0800 398 749


or click here for a free, no obligation quote
The Global Beauty Group
Client Experiences
Full Body Skin Rejuvenation Treatments
Cellulite reduction
Circumferential fat reduction
Face and body contouring
Dermal volumising
Skin tightening
Wrinkle reduction
Stretch mark reduction
Acne scar improvement
Results are achieved without discomfort or downtime, providing patients with an effective way to enhance their silhouette and improve skin clarity, firmness and texture with quick and convenient treatment application.
The science behind Pollogen MAXIMUS
Unlike other non-surgical body contouring technologies, Pollogen MAXIMUS unites triple action fat reduction, skin tightening and muscle toning via a single applicator, in one treatment session:
Stage 1 – Release
The applicator heats and releases the fat from the targeted subcutaneous tissue layer.
Stage 2 – Remove
The fatty tissue removal is accelerated by simultaneous application of internal and external pressure to the fat layer. The released fat is removed by stimulating blood circulation and lymphatic drainage.
Stage 3 – Reshape
Localised fat is reduced and skin is instantly tightened due to immediate contraction of collagen fibres when RF energy is applied. The result is a firmer, contoured and sculpted appearance.
TriLipo® with DMA™

Pollogen MAXIMUS combines TriLipo® RF energy with Dynamic Muscle Activation treatment to deliver non-invasive fat reduction, body shaping and instant skin tightening.
Together these two technologies penetrate all four tissue layers: the epidermis, dermis, fat and muscle layer for maximum clinical efficacy in just a 30 session, depending on the size and number of areas being treated.
Benefits:
Targeted circumferential fat reduction
Cellulite reduction
Skin tightening visible from the first treatment
Muscle toning and lifting
Lymphatic drainage and body detoxification
Face and body contouring
Wrinkle, nasolabial and periorbital reduction
Post-natal and weight loss stomach tightening
Reduce unwanted fat pockets and cellulite, deliver targeted body sculpting and contouring and improve skin and muscle tone to the:
 Face
Neck
Arms
Stomach
Buttocks
Thighs
Hands
TriPollar Skin Tightening Technology 
TriPollar® offers breakthrough innovation in superior RF comfort by engaging a focused energy field that allows for a lower power consumption. Results are both immediate and long-term, non-invasively penetrating the dermal layer for outstanding clinical efficacy.
Benefits:
Immediately contracts collagen fibres for a tighter, plumper appearance
Increases fibroblast metabolism for long-term collagen remodelling
Tightens lax and loose skin on the face, neck and décolleté
Tones and contours facial skin for a lifted, sculpted look
Accelerates lymphatic drainage/blood circulation for tissue oxygenation and detoxification
Technical Specifications
Maximum RF output power: 50W
RF output frequency: 1MHz
RF output power control: Pulse width modulation (PWM)
Input voltage and current: 100-240 volt, 50-60Hz, max 2.2A
User interface: LCD colour touch screen
Dimensions: 57cm L x 49cm W x 127cm H
Weight: ~22kgs
Applicators: 1 x large, 1 x medium, 1 x small
TriLipo® pulse duration: 20-40 us
TriLipo® pulse frequency: 0.78, 1.56, 3.12, 6.25; 12.5 (Hz)
TriLipo® pulse amplitude: 0-300mA
Programs: RF; TLP; PULSE
A Comprehensive, World Class Training Program is Included with Your Order!
The Global Beauty Group is totally committed to providing you with an outstanding training experience. For this reason, a highly developed training program is provided FREE for you and one other staff member with your purchase. Training is conducted at our Melbourne training centre and a Travel Assistance Rebate is supplied for interstate customers.
FREE Marketing Materials
The Global Beauty Group not only believe in providing you with excellent devices and outstanding training programs, we also believe in helping you to market your new services to your existing and new clients. With this in mind, we have created an informative customer brochure and advertising poster for you to use to help promote your business. Here are some of the examples of the marketing materials that you will receive with your purchase.
Beauty Equipment Sales and Financing
Please also view our Sales and Financing options for a solution that works for your salon, or call our team of experts now on AU 1300 655 013 or NZ 0800 398 749 and let us help tailor a custom made solution to suit your individual business and budget.

The Global Beauty Group Best Price and Quality Guarantee
Experience our gold standard customer service and industry leading equipment range to discover for yourself why The Global Beauty Group is consistently Australia's leading aesthetic equipment and skincare supplier. We guarantee to beat any genuine competitor's quote on our full range of products, so why not talk to one of our friendly consultants today to find out more?
Call now for a free, no obligation quote on AU 1300 655 013, NZ 0800 398 749.