Are you performing Ultrasonic Facials? 
The bt-Micro™ has garnered a long-standing reputation amongst skin therapists and aestheticians, proving that innovative, tried-and-true technology doesn't always have to come in big packages, or cost the earth. No facial treatment is complete without the bt-Micro™, below we look at just a few of the reasons why.
bt-Micro™ is a handheld ultrasonic exfoliation and peeling tool designed for high/frequent everyday use in the salon, spa and clinic environment. It expedites facial treatments by going above and beyond what can be achieved when compared to traditional fingertip product application.
4 modes for brighter facial results
Deep clean
When used during the cleansing stage of a facial treatment, bt-Micro™ works to deeply clean and decongest pores, pushing out embedded dirt and oil with the flat peeling probe. The high speed ultrasonic and microcurrent oscillations aid the cleanser to better penetrate the skin for a deeper, more purifying clean.
Exfoliation
The high speed ultrasonic action (24,000-26,000Hz) also acts as a superior exfoliation and peeling treatment when used with a topical exfoliant. The peeling probe, combined with penetrating vibrations effectively removes congestion from the stratum corneum, leaving skin smoother, fresher and primed for further skin corrective product penetration.
Moisturisation
+Ion2 mode combines ultrasonic with microcurrent at clinically tested parameters to aid the penetration and absorption of moisturisers, creams and emollients by up to 75% greater than topical application alone. This delivers superior nourishment to the skin cells, allowing moisturising ingredients to go that extra mile in clinical efficacy.
Serum delivery
+Ion1 mode combines ultrasonic and microcurrent to expedite the delivery of serums and ampoules deep into the epidermis at clinically tested parameters. Like +Ion2, this mode enhances the penetration and absorption of active serum ingredients to by up to 75% compared to topical application alone to deliver deeper-reaching, more dramatic skin corrective results.
Handheld treatment technology for the dynamic facialist
Weighs less than 300 grams
Compact and agile body fits comfortably into one hand
Cordless and rechargeable for take-anywhere treatment
Ideal for mobile or express treatments
Hygienic peeling probe cover
Clear silicone protective skin
Enhances the results of any facial treatment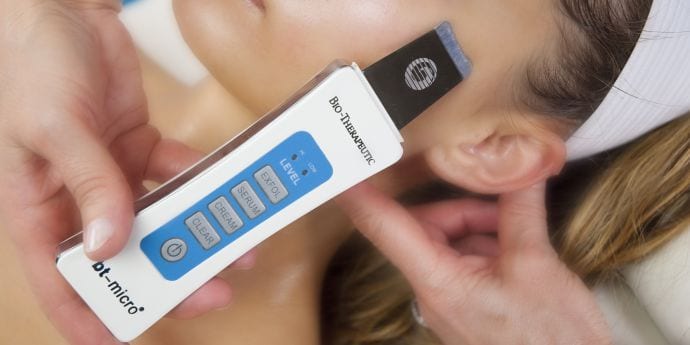 Ready to up the ante on your facials with bt-Micro™? Order yours today by calling 1300 006 607.
Call AU 
1300 655 013

, NZ 

0800 398 749


or click here for a free, no obligation quote
Download our complimentary
2017 Technology Guide