For salon and clinic owners wanting to take their skin consultations to the next level, The Global Beauty Group is now offering complimentary OBSERV 320 demos at our Moorabbin-based showroom or via Microsoft Teams video call.
Designed for beauty professionals wanting to showcase skin concerns, OBSERV 320 provides 5 detailed modes of skin analysis with Daylight, Texture, Pigmentation, Redness and Firmness. Clearly identify and demonstrate client skin concerns, engage clients in investing in their skin health and use before and after pictures to showcase the effectiveness of your treatments. This interactive approach with clearly defined visual evidence plus analysis and recommendation software is the ideal way for skin professionals to build client trust.
Please call 03 8555 2246 to chat to an Account Manager about technology-enhanced skin analysis, or for assistance in booking your OBSERV 320 treatment demo.

Call AU
1300 655 013

, NZ

0800 398 749


or click here for a free, no obligation quote
The Global Beauty Group
Client Experiences
Benefits for Your Business and Clients
Offers an exceptional 'skin-journey-experience' to your client
Connect your clients' skin goals to your expert advice
Professionalises your consultations with the 4-steps Skin Tour
Creates 'skin awareness' with unbiased proof of client skin concerns
Helps clients track their skin health journey with you
Increases treatment and retail skin care sales
Increases your client satisfaction and loyalty
Allows you to showcase your best work, including on social media
Helps create committed skin care and treatment plans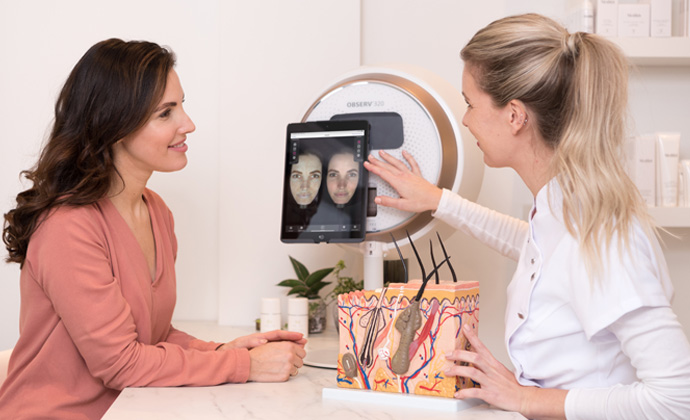 System Features
Easy to use and comfortable for both clients and clinicians, OBSERV 320 offers great features and benefits for aesthetic businesses.
Full face skin imaging analysis with five different modes (Daylight, Texture, Pigmentation, Redness, Firmness)
4 pictures of your client are captured in 4 seconds
Universal iPad Visor makes OBSERV 320 adjustable and compatible with most iPads
Observ 320 allows for iPad charging during skin analysis consultations
FaceNotes feature allows you to draw directly on examination images to highlight areas of concern
Digital client notes can be added to images to detail client's treatment history
Customise your own 'Concerns', 'Treatments' and 'Products' options in the OBSERV app
The Dynamic Reporting feature enables you to create customised client reports that outline identified skin concerns, proposed treatment plans, before and after results, split view photos and comparisons and client treatment notes
Ability to generate and send analysis reports direct to client's email
Complete with travel bag for portability and take-anywhere skin examination
The 4-Step Skin Tour
Get your clients engaged by letting them play an active role in achieving their skin goals as you find the best course of action to create beautiful, healthy skin together.
Take clients along the 4-Step Skin Tour with OBSERV 320 to get your client as committed to achieving optimal skin outcomes as you are by turning a 'standard' beauty consultation into a connected, technology enhanced skin analysis experience.
See deeper levels of skin and reach the next level in skin consultations with informed decisions when choosing treatment plans and selecting the right products for your patients.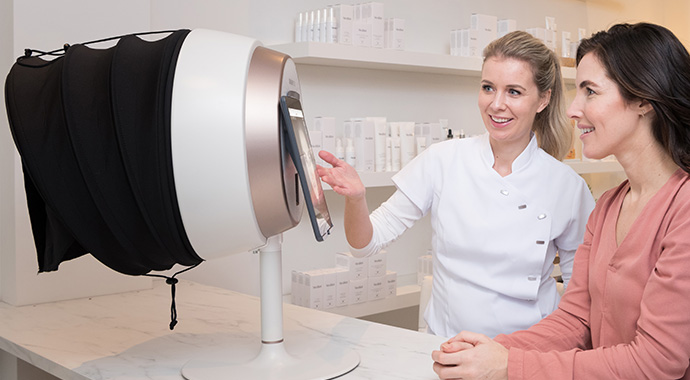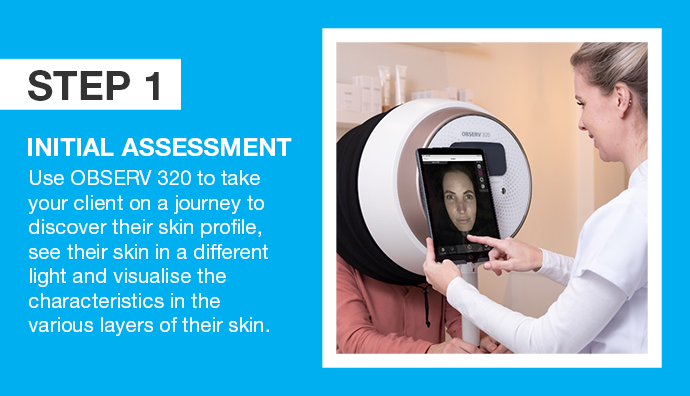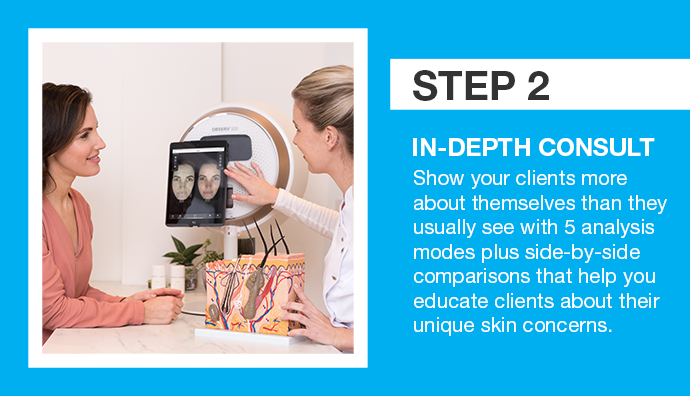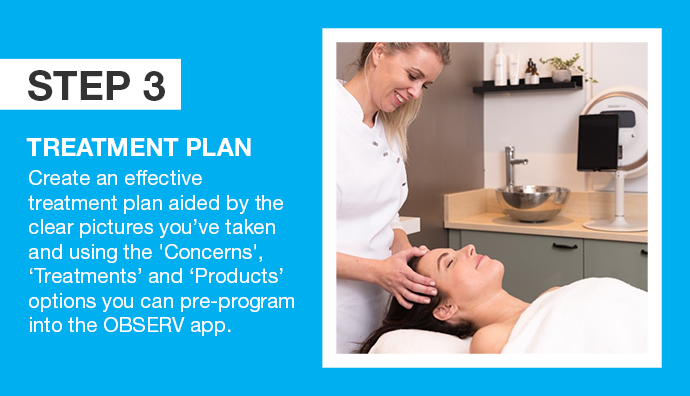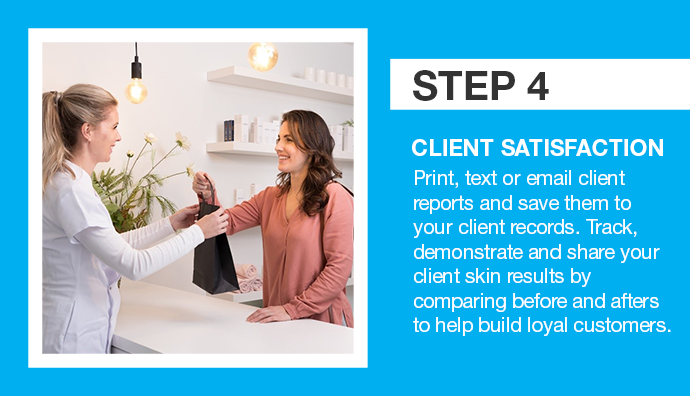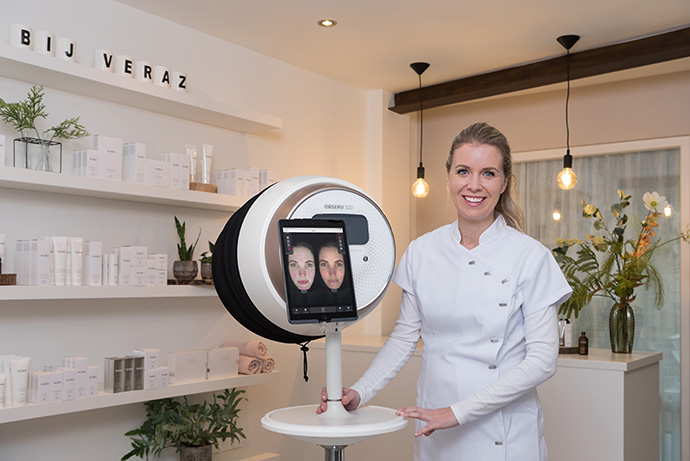 Technical Specifications
Illumination Modes: Daylight, Firmness
Visualisation Modes: Texture, Pigmentation, Redness
iPad Control: Bluetooth 4.1. LE
Illumination Technology: Solid state LED
Power: 36 Watts
Capturing Time: 4 seconds on average
Software: OBSERV App available in App store
Dimensions packed in bag: Height 19cm x Width 45cm x Depth 46cm
Height: 63cm
Width: 43cm
Depth: 32cm
Weight: 11.2kg
Ongoing Support with Education HUB
Access to the Australian Beauty Industry Award Winning 'Educator of the Year – Product/Equipment Company' Education HUB comes complimentary with your investment into technology.
A blended learning aesthetic education pathway like no other, each online training module covers successfully and safely performing treatments plus background into the technology history and theory. Learn through fun, engaging and interactive education modules plus online e-textbooks, quizzes and podcasts. Your team of dermal educators and engineers at The Global Beauty Group are also available 7 days a week for rapid response clinical and technical support when you need it.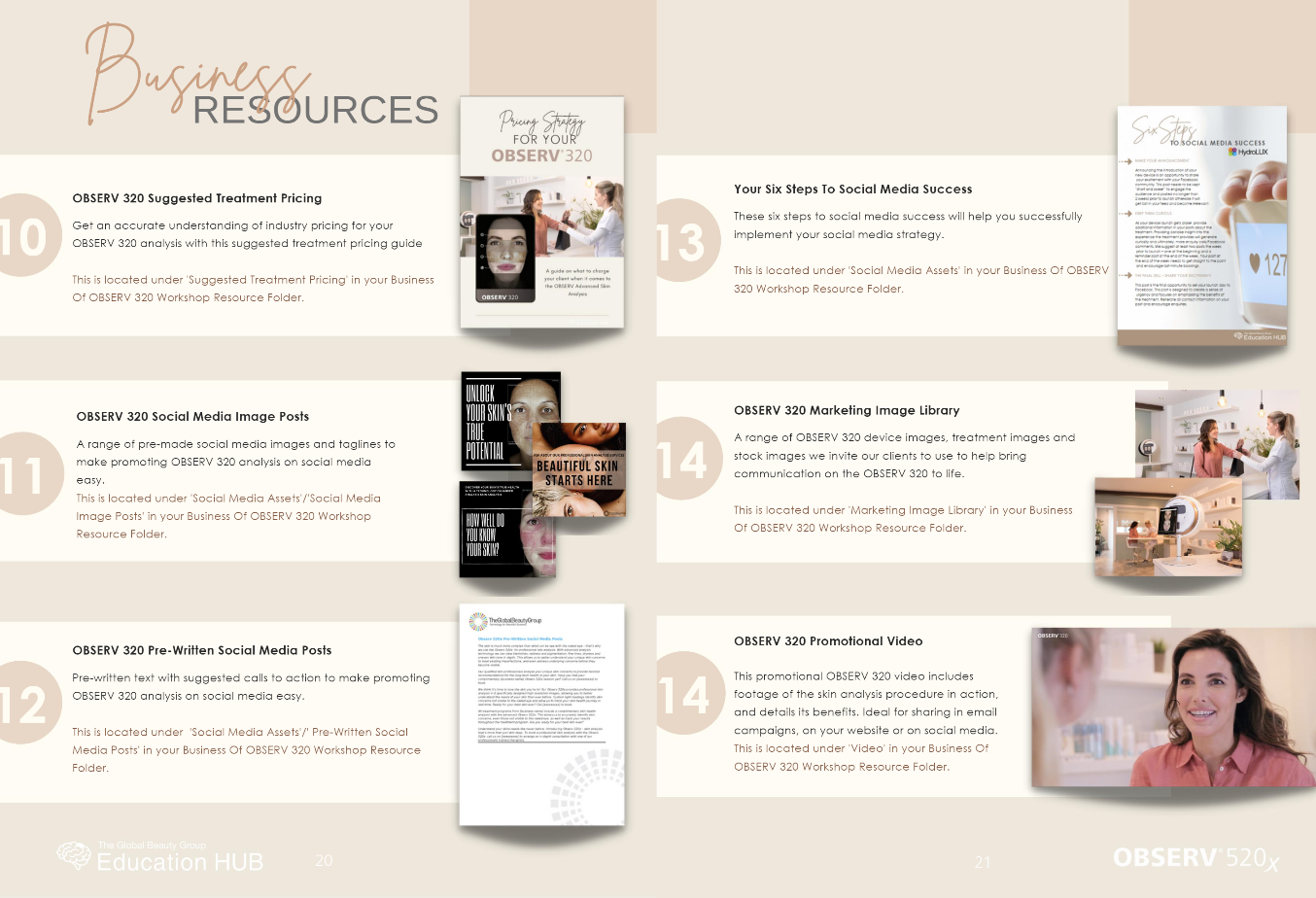 Marketing and Business Success Resources
The Global Beauty Group clients enjoy access to pre-made social media images and text, suggested treatment pricing and packages, treatment brochures, posters, Marketing Success Guides, Before & Afters, pre-written website content, image library, video library and more plus education modules on how to maxamise their impact on your business.
Beauty Equipment Sales and Financing
Please also view our Sales and Financing options for a solution that works for your salon, or call our team of experts now on AU 1300 655 013 or NZ 0800 398 749 and let us help tailor a custom made solution to suit your individual business and budget.

The Global Beauty Group Best Price and Quality Guarantee
Experience our gold standard customer service and industry leading equipment range to discover for yourself why The Global Beauty Group is consistently Australia's leading aesthetic equipment and skincare supplier. We guarantee to beat any genuine competitor's quote on our full range of products, so why not talk to one of our friendly consultants today to find out more?
Call now for a free, no obligation quote on AU 1300 655 013, NZ 0800 398 749.