Dermaroller®
Advanced German Engineering and point-of-difference design benefits allow skin care professionals to be confident providing clients with unparalleled at-home results from this award-winning, industry leading device.
Dermaroller® micro-needling treatments improve the appearance of skin texture, tone and firmness. Treatments also increase absorption of the Dermaroller® range of clinical skin care, which supports the skin to retain moisture, minimise fine lines, reduce the appearance of hyperpigmented or irregular skin tone and boost plumpness.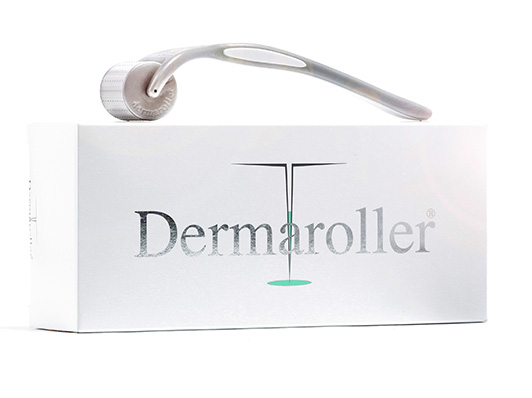 Call AU
1300 655 013

, NZ

0800 398 749


or click here for a free, no obligation quote
The Global Beauty Group
Client Experiences
Dermaroller® has been providing brighter, fresher, younger-looking skin results for clients and beauty businesses since 1999 in now over 50 countries.
Why clients love Dermaroller®:
Reduces the appearance of fine lines and wrinkles
Visibly improves uneven skin texture
Increases the appearance of skin firmness
Targets hyperpigmented or irregular skin tone
Allows for greater skin care infusion and hydration
Suitable for use up to 3 times a week for up to one year of use
Why salons and clinics love Dermaroller®:
Additional revenue from Dermaroller® device, skin care and in clinic treatment sales
Keep existing clients connected to their skin journey and clinic
Support new clients seeking home care treatment options
Achieving treatment and skin care results that clients love more than ever!
Strategically Arranged Needles
162 needles in nine rows are precisely arranged so that the Dermaroller microneedles puncture the uppermost skin layer (epidermis) with light pressure, while other dermal rolling devices require intense pressure that can cause damage.
Finest Quality Stainless Steel
Dermaroller use high quality, medical-grade stainless steel for all needles. This is hygienic, minimises the risk of bacterial infections and allows finer and sharper needles to penetrate the uppermost skin layer more comfortably.
Advanced German Engineering
Unlike other dermal rollers, Dermaroller microneedles are manufactured in Germany under strict quality control. Considered design features facilitate treatments with enhanced results that do not cause unnecessary skin irritations.
Easy, Comfortable Treatments
Dermaroller is lightweight and has an ergonomically formed handle for comfortable, controlled treatments even at at multiple angles. Simple to follow protocols allow for an even result even for first time, inexperienced dermal rollers.
Recommend The Best
Advanced German Engineering and point-of-difference design benefits mean you can be confident offering your clients unparalleled results from this award-winning, industry leading device.
The Dermaroller® Clinical In Home Treatment System provides clinicians the opportunity to elevate their service offering through a synergy of technology and skincare. The in home program is designed to work in alignment with professional in clinic treatments, for optimal results that engage clients in their skin more than ever before.
Beauty Equipment Sales and Financing
Please also view our Sales and Financing options for a solution that works for your salon, or call our team of experts now on AU 1300 655 013 or NZ 0800 398 749 and let us help tailor a custom made solution to suit your individual business and budget.

The Global Beauty Group Best Price and Quality Guarantee
Experience our gold standard customer service and industry leading equipment range to discover for yourself why The Global Beauty Group is consistently Australia's leading aesthetic equipment and skincare supplier. We guarantee to beat any genuine competitor's quote on our full range of products, so why not talk to one of our friendly consultants today to find out more?
Call now for a free, no obligation quote on AU 1300 655 013, NZ 0800 398 749.