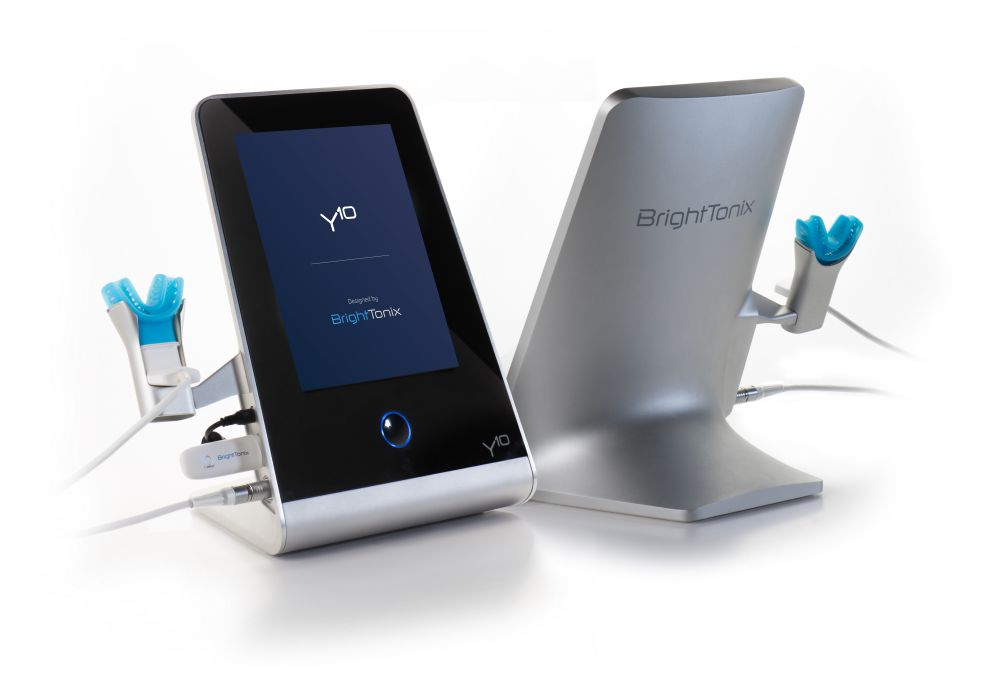 BrightTonix
BrightTonix is a revolutionary innovation that harnesses the power of Radiofrequency (RF) technology and a clinical strength Y10 whitening toothpaste that, when combined, safely and gently draw out stains from tooth enamel without the need for harsh hydrogen peroxide treatments. Treatments take as little as 15-minutes, and no post-treatment home care is required, making it a convenient lifestyle solution for busy, image-conscious clients.
Call AU
1300 655 013

, NZ

0800 398 749


or click here for a free, no obligation quote
The Global Beauty Group
Client Experiences
A bright new approach to professional teeth whitening
Why do clients love BrightTonix?
Visible results from the first treatment
No minimum wait between sessions
Enamel friendly teeth whitening is safe, comfortable and pain-free
No necessary pre or post-treatment preparation
Key features and benefits
Specially formulated Sodium Hexametaphosphate and Sodium Fluoride composite Y10 toothpaste combines with RF energy to whiten teeth without hydrogen peroxide
Ergonomic, disposable mouthpiece suitable for all mouth shapes
Intuitive, easy-to-use interface for fast and simple treatments
Lightweight and portable device is ideal for moving between treatment rooms
Best Price Guarantee* Call Today!
Specifications
User Interface: 10.4′ high-resolution LCD with touch-screen technology
Connection Panel: push-pull applicator connection port, 13G connection port & power cable connection port
Applicator Umbilical Harness: 1.5M length
Simple User Interface: LED and On/Standby push-button
Electrical Requirements: DC input 12V / 3.33A
RF Output Frequency: Up to 7.7 MHz
RF Output Power: Up to 5WAVG
Dimensions: 38CM x 26CM x 28CM
Weight: 4.5kg. / 9.9lbs
A Comprehensive, World Class Training Program is Included with Your Order!
The Global Beauty Group is totally committed to providing you with an outstanding training experience. For this reason, a highly developed training program is provided FREE for you and one other staff member with your purchase. Training is conducted at our Melbourne training centre and a Travel Assistance Rebate is supplied for interstate customers.
FREE Marketing Materials
The Global Beauty Group not only believe in providing you with excellent devices and outstanding training programs, we also believe in helping you to market your new services to your existing and new clients. With this in mind, we provide suggested social media and website content, an informative client brochure, poster, suggested treatment pricing and much more to help promote your business.
Beauty Equipment Sales and Financing
Our Sales and Financing options are designed to suit businesses big and small. To find out more, call us now on AU 1300 655 013, NZ 0800 398 749 and let us help tailor a custom made solution that best suits your salon's needs.

The Global Beauty Group Best Price and Quality Guarantee
All customers can rest assured that we deliver the highest quality products at the lowest prices, guaranteed! We guarantee to beat any genuine competitor's quote on our full range of products, so talk to one of our friendly consultants today. Experience our fully comprehensive and personalised customer service and see for yourself why The Global Beauty Group is Australia's premier aesthetic beauty equipment supplier.
Call us now for a free, No obligation quote on AU 1300 655 013, NZ 0800 398 749