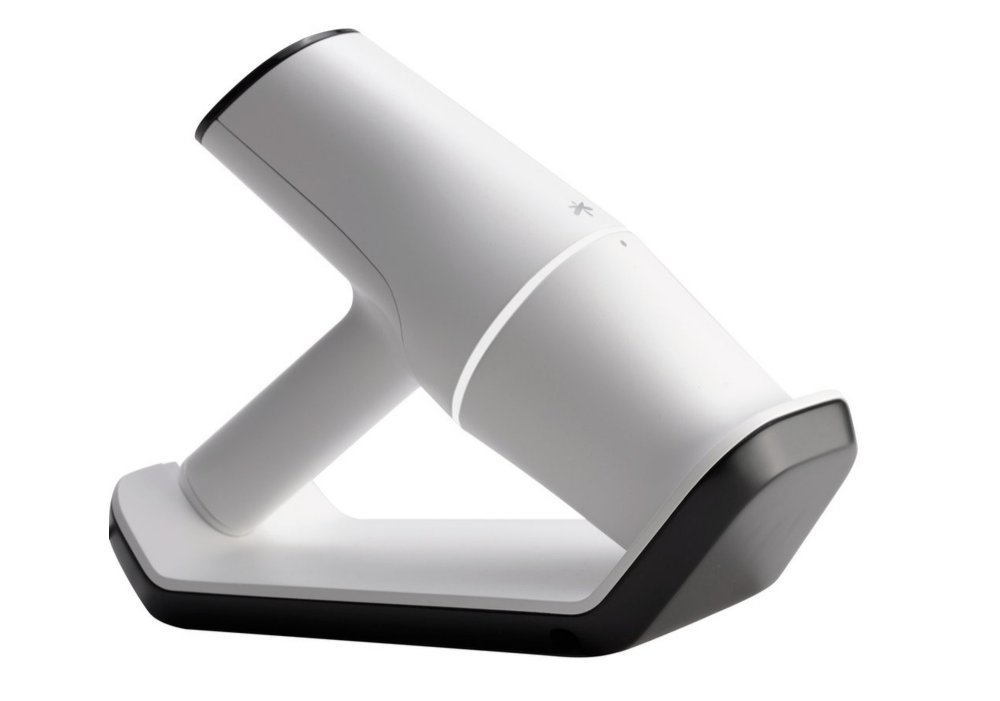 Cherry Imaging System
Cherry Imaging was founded upon decades of experience in aesthetic medicine.
It is the first device that can precisely and accurately deliver objective patient data before and after an aesthetic or medical treatment.
The innovative, handheld camera captures thousands of three-dimensional images of the face and body from multiple field views and angles, all within a single, one-click scan. Each scan captures the finest subtleties in texture and smallest changes in volume.
Cherry Imaging's cutting edge technology enhances how clinicians can communicate with, treat, and measure their patients:
Accurate and objective data - a driving factor of precise and in-depth pre and post-treatment consultations
Traceability - track and store consistent client measurements, metrics and documentation
Retention - retain clientele and build trust thanks to factual, scientific and visual communication
Call AU 
1300 655 013

, NZ 

0800 398 749


or click here for a free, no obligation quote
The Global Beauty Group
Client Experiences
The Most Advanced Imaging System For The Aesthetic Market
The Cherry Scanner is a handheld camera that captures a three-dimensional images of the face and body with a single one-click scan.
It scans over one thousand micro 3D images and stitches them together into one composite 3D model.
The scanner follows the contours of the patient's body. All the micro 3D images are then processed through the innovative Trace Software, capturing the patient's data in real-time.
Cherry is the most advanced imaging system for the aesthetic market with state-of-the-art optical design, hardware and software for clinicians that want to deliver an objective, real-time imaging experience for their patients, optimise their treatments and support patient relationship management.
One system for all aesthetic imaging needs: face, body and any other skin/body parts
Large area coverage with 100-micron accuracy
Easy to use with no need for patient positioning or alignment
Built-in-objectivity – integrated illumination system that is not altered by altering room lighting conditions
Accurate tracking over time with fully automated alignment algorithms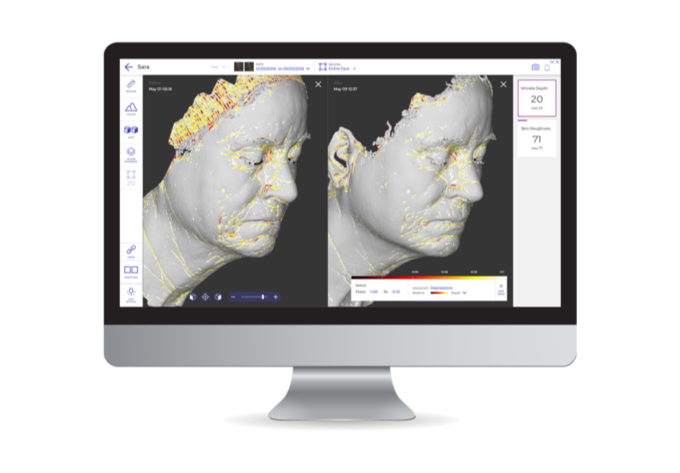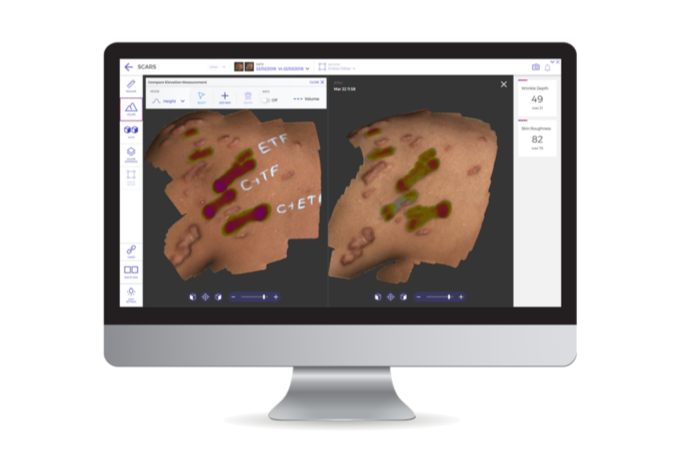 How Does The Cherry Scanner Work?
The Cherry Scanner is the only system available in the market that creates 3D images for both the body and face in a handheld device.
While doing a scan, the Cherry Scanner uses its own internal lighting, which ensures the objectivity and accuracy of each scan. After the patient has been scanned, the Trace Software uses advanced algorithms designed to measure specific parts of the body, providing an objective and accurate measurement of the entire morphology of the patient's skin.
Each scan processes the data using analytical algorithms, so the results are always objective and detail the exact state of the patient at the time. These measurements can then be compared with future scans to show treatment progress.
The scanner works the same in all scanning conditions. The patient simply needs to sit comfortably and maintain the same facial expression as you perform the scan. This will allow the scan to take in the data of a patient's body in its natural state without things that can cause disruptions in the scanning process.
The beauty of the Cherry Scanner is not only in the science behind it, but the wide range of applications in which the device can be used. Each new scan calculates a comprehensive skin analysis that can be used to accurately and objectively treat patients for:
Fillers and Botox – measure skin volume before and after injections to monitor the dilution of materials over time and inform patient treatments and follow-ups with real data
Skin Rejuvenation – measure the length and depth of wrinkles, as well as skin texture and pigmentation
Scars – measure the surface scar volume, elevation and depression to record a baseline pre-treatment and continue to monitor responses to various treatment modalities over time
Body Circumference – measure the circumference and volume of any part of the body to identify optimal areas for treatment and report back to the patient on successful reductions in treated areas
Integrating Trace By Cherry Software
The Trace Software is designed to track patients over a period of time as the treatments progress, giving an accurate and objective picture of how well the treatments are working over multiple sessions.
Automated reports are available at the touch of a button to show a detailed history of the patient's scans.
Trace Software accurately measures scans at different points of time and adds successive scans automatically with time stamps. You can analyse any part of the data, on any part of the body, and do the exact same analysis with a previous session, accurately measuring the differences in skin texture, scar visibility, wart volume, the circumference of the waist or thigh over a period of time accurately with empirical data.
The Trace Software has integrated automatic alignment, which allows you to easily align multiple scans taken at different times to make comparison easier. The Trace Software has two alignment options, manual and automatic, and you can select which mode to use from the tools menu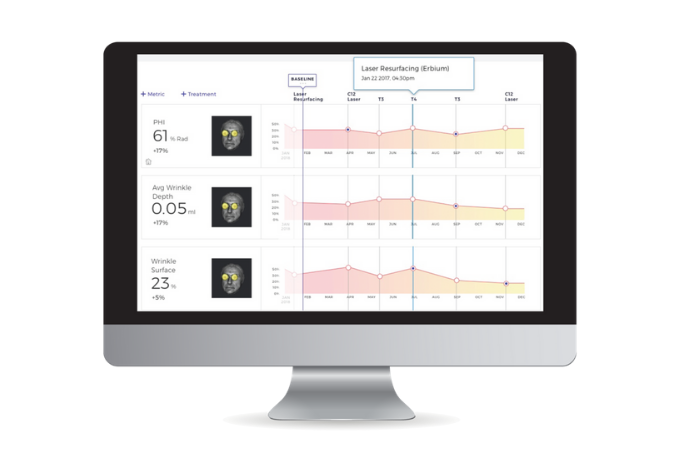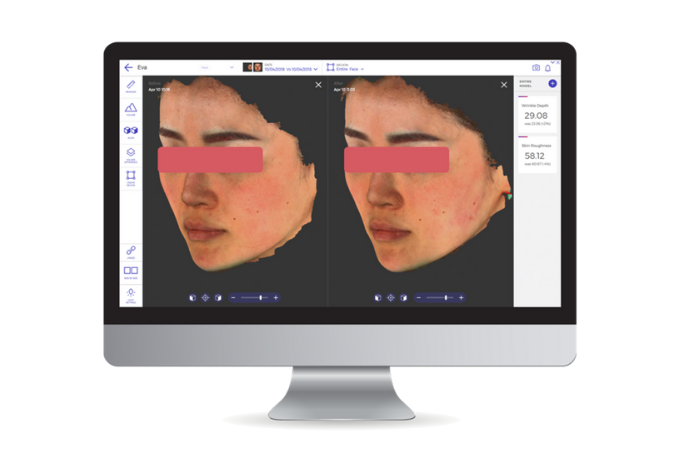 Why Cherry Scanner?
Mobile hand-held scanning system for face and body

Stereo-Images are captured by continuous scanning of the object

Ultra-accurate measurement – 1,000 images per scan, 100 micron

High-resolution 3D micro colour images are captured at a rate of 15 frames/sec

Built-in constant illumination source eliminating variation in lighting conditions

No trade-off between image size and resolution, local high-resolution 3D applies for small and large areas

Offers various measurement models
Fast, simple and user-friendly
Record and measure results over time thanks to Trace by Cherry software
Increases credibility and customer retention
Technical Specifications
Dimensions: 

6 (Diameter) x 12 (Length) cm

Weight: 

400 grams

Operating range: 

2cm +/- 2.5cm

Spatial x/y resolution: 

0.05mm

Depth resolution: 

0.1mm

Operating temperature: 

10-40° C

Data interface: 

USB 3.0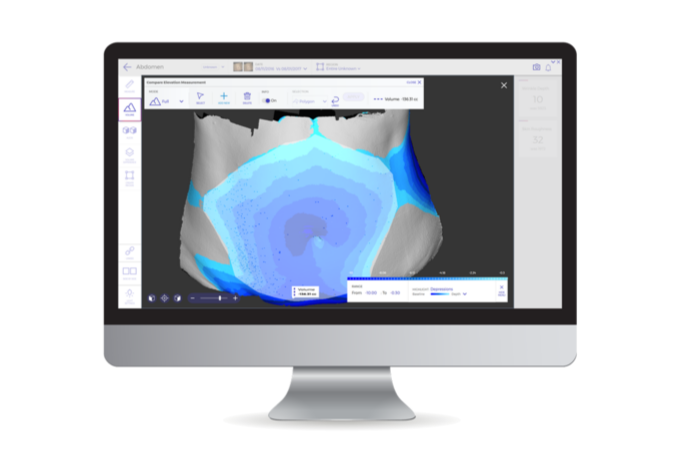 Ongoing Support with Education HUB
Access to the Australian Beauty Industry Award Winning 'Educator of the Year – Product/Equipment Company' Education HUB comes complimentary with your investment into technology.
A blended learning aesthetic education pathway like no other, each online training module covers successfully and safely performing treatments plus background into the technology history and theory. Learn through fun, engaging and interactive education modules plus online e-textbooks, quizzes and podcasts.
Your team of dermal educators and engineers at The Global Beauty Group are also available 7 days a week for rapid response clinical and technical support when you need it.

Marketing and Business Success Resources
The Global Beauty Group clients enjoy access to Marketing and Business Success Resources from our MyFaceMyBody 'Marketing Support of the Year' Award winning team. Pre-made social media images and text, suggested treatment pricing and packages, treatment brochures, posters, Marketing Success Guides, Before & Afters, pre-written website content, image library, video library and more are included complimentary, along with plus education modules on how to maxamise the impact of our Business Support Resources on your business.
Beauty Equipment Sales and Financing
Please also view our Sales and Financing options for a solution that works for your salon, or call our team of experts now on AU 1300 655 013 or NZ 0800 398 749 and let us help tailor a custom made solution to suit your individual business and budget.

The Global Beauty Group Best Price and Quality Guarantee
Experience our gold standard customer service and industry-leading equipment range to discover for yourself why The Global Beauty Group is consistently Australia's leading aesthetic equipment and skincare supplier. We guarantee to beat any genuine competitor's quote on our full range of products, so why not talk to one of our friendly consultants today to find out more?
Call now for a free, no-obligation quote on AU 1300 655 013, NZ 0800 398 749.