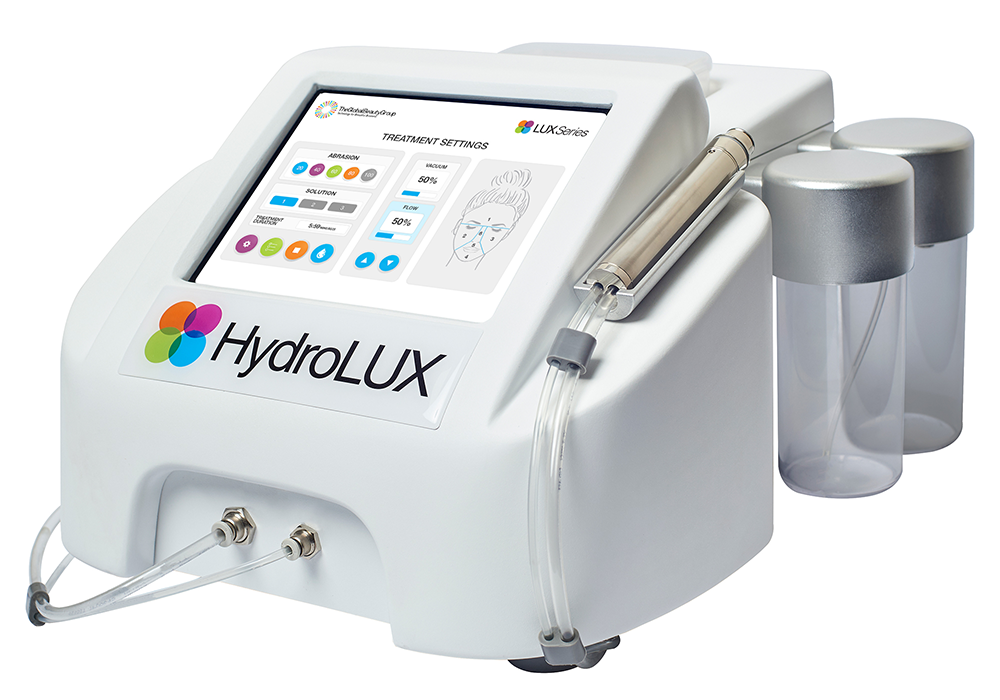 HydroLUX
When you look at all of the aesthetic services available on the market, Microdermabrasion is arguably the most sought-after and well-known of them all.
By integrating targeted treatment solutions, Hydrodermabrasion ensures this in-demand treatment is suitable for a broad range of skin types and conditions.
A must-have on any forward-thinking clinics treatment menu, Hydrodermabrasion can be utilised not only as a profit-boosting skin treatment but as a results-driven treatment add-on or upgrade.
Hydrodermabrasion can also be a key feature in your clinic's Signature Facial to ensure your business consistently stands out from the competition. A signature facial gives you a competitive edge and offers a memorable experience that your competition can't compete with.
Hydrodermabrasion treatments can be performed all year round with no pain, no side effects and no post-treatment downtime. This makes Hydrodermabrasion an attractive, lifestyle-driven option for clients and a powerful, hard-working investment for results-driven clinicians.
Call AU 
1300 655 013

, NZ 

0800 398 749


or click here for a free, no obligation quote
The Global Beauty Group
Client Experiences
HydroLUX is the latest evolution in hydrodermabrasion technology to join the LUX Series range of clinical grade devices at The Global Beauty Group.
Researched and developed by our expert team, HydroLUX delivers unprecedented service versatility and treatment scope — allowing clinicians to push their hydrodermabrasion service potential higher than ever before.
With 10 levels of adjustable vacuum and flow, clinicians can address a greater number of skin concerns and meet a wider range of client objectives. Treatments can be performed with a single targeted treatment solution or layered with multiple solutions to create a fully customised treatment experience.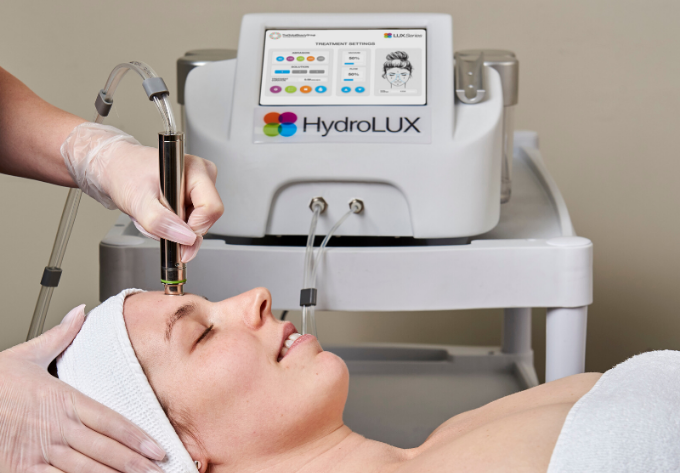 Discover versatility and enhanced treatment efficacy
HydroLUX features one of the widest ranges of Hydrodermabrasion treatment intensity on the market.
Thanks to HydroLUX, the exfoliation and skin renewal of microdermabrasion meets the intense product infusion of hydrodermabrasion for enhanced facial rejuvenation, operator ease, client comfort and treatment efficacy.
High powered vacuum suction provides the option of intense exfoliation skin renewal services and can be adjusted to gentle suction for treatment on more delicate or mature skin types.
We have streamlined industry-leading Hydrodermabrasion technology into a smart, portable system that integrates seamlessly into even the most space-limited treatment rooms.
HydroLUX features a selection of treatment tips: 80 grit, 100 grit, 150 grit, 200 grit and 250 grit
8mm treatment tip: enables targeted decongestion on smaller, harder to treat areas like the nose, nasal labial folds and lip lines
15mm treatment tip: designed for standard facial treatments make maneuvering around the face fast and easy
25mm treatment tip: makes in-demand larger body area treatments like back and buttocks "bacials" fast and easy
Technical Specifications
Voltage: 110V ~ 230V
Weight: 13.5kg (29.7 pounds)
Size: L 50cm x W 40cm x H 25cm
LCD Touch Screen: 8″ colour touch screen
Maximum Solution Viscosity: 1,000 cps
Treatment Tips: 8mm 200 grit, 8mm 250 grit, 15mm 100 grit, 15mm 150 grit, 15mm 200 grit, 15mm 250 grit, 25mm 80 grit, 25mm 100 grit
System Features
Extra-large, easy to connect solution containers save time by allowing multiple treatments to be performed before having to refill or empty containers
Three, easily interchangeable solution containers mean additional solution options for treatments tailored to individual clients skin concerns are just the press of a button away
10 levels of adjustable vacuum and flow provide treatments customisable to clients unique skin concerns, for point of difference treatments and enhanced treatment efficacy
Easily interchangeable tip options marked with tip size, as well as marked and colour coded with grit intensity, take the confusion out of finding the right level of exfoliation
Handy tip case, incorporated into the design of the device, means the desired treatment tip is always accessible
Switch from dry microdermabrasion to liquid infusion hydrodermabrasion with a press of the footswitch, making dry passes on problem areas easier than ever before
The full colour, 8-inch display and intuitive graphic user interface have been designed to make performing treatments as easy as possible for busy, multitasking clinicians
Cleaning is easy, fast and effortless with an inbuilt one press 2-minute cleaning cycle
Ongoing Support with Education HUB
Access to the Australian Beauty Industry Award Winning 'Educator of the Year – Product/Equipment Company' Education HUB comes complimentary with your investment into technology.
A blended learning aesthetic education pathway like no other, each online training module covers successfully and safely performing treatments plus background into the technology history and theory. Learn through fun, engaging and interactive education modules plus online e-textbooks, quizzes and podcasts.
Your team of dermal educators and engineers at The Global Beauty Group are also available 7 days a week for rapid response clinical and technical support when you need it.

Marketing and Business Success Resources
The Global Beauty Group clients enjoy access to Marketing and Business Success Resources from our MyFaceMyBody 'Marketing Support of the Year' Award winning team. Pre-made social media images and text, suggested treatment pricing and packages, treatment brochures, posters, Marketing Success Guides, Before & Afters, pre-written website content, image library, video library and more are included complimentary, along with plus education modules on how to maxamise the impact of our Business Support Resources on your business.
Beauty Equipment Sales and Financing
Please also view our Sales and Financing options for a solution that works for your salon, or call our team of experts now on AU 1300 655 013 or NZ 0800 398 749 and let us help tailor a custom made solution to suit your individual business and budget.

The Global Beauty Group Best Price and Quality Guarantee
Experience our gold standard customer service and industry leading equipment range to discover for yourself why The Global Beauty Group is consistently Australia's leading aesthetic equipment and skincare supplier. We guarantee to beat any genuine competitor's quote on our full range of products, so why not talk to one of our friendly consultants today to find out more?
Call now for a free, no obligation quote on AU 1300 655 013, NZ 0800 398 749.