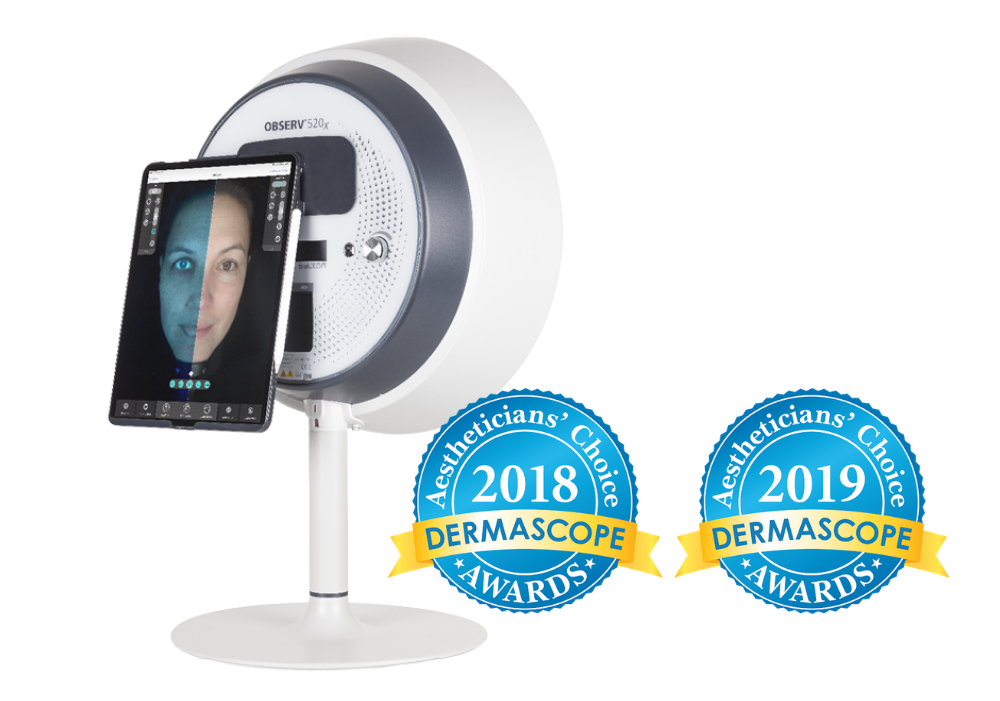 OBSERV 520x
OBSERV 520x is a state of the art skin analysing system that assists dermatologists, aestheticians and clinicians with accurate skin condition diagnosis at both the epidermal and dermal layer.
Equipped with 10 comprehensive observation modes to view and analyse skin health from the deepest layer right through to the surface, OBSERV 520x allows both the skin professional and client to study skin irregularities in great detail and discuss the best course of treatment to return the skin to balance.
This interactive approach, combined with clearly defined visual evidence, is a great way to build customer trust and rapport during a skin consultation to enable skin professionals to confidently guide the client through to skincare and treatment solutions with ease.
Call AU 
1300 655 013

, NZ 

0800 398 749


or click here for a free, no obligation quote
The Global Beauty Group
Client Experiences
10 Observation Modes
Daylight – the skin as seen in a controlled, natural daylight environment
Surface Texture – reveals the skin's textural topography
Pigmentation – illustrates common skin tone irregularities such as sun damage, pigmentation, melasma and general colour variations
Vascularity – illustrates the network of microvascular structures in the skin that lead to redness and visible facial flushing
Parallel Polarised – an enhanced view of the skin's surface, fine lines, micro-relief, wrinkles, texture and pores
Cross Polarised – suppresses surface shine for an unobstructed view of dermal structures, vascular conditions, inflammations and pigmentation
True UV – exposes skin abnormalities on the surface and in deeper skin layers', creating distinguishable fluorescence patterns
Simulated Woods Light – adjusts the spectrum of light to reveal diagnostic dimensions, such as skin dehydration and oiliness
360 Light – illustrates areas of volume on the face, showcasing results for age management treatments and dermal fillers
360 Grey – by blotting out any colour distractions, the 360 Grey mode exposes topographical signs of ageing
Benefits for Your Business and Clients
Increases treatment bookings and product sales organically
Builds customer trust and loyalty; boosts overall client service satisfaction
Visually and scientifically supports your knowledge and expertise
Allows development of more accurate, fine-tuned treatment plans
Visually displays treatment progress for superior follow ups and evaluations
The Science Behind OBSERV 520x
OBSERV 520x was developed on the scientific principle of skin fluorescence as a means to optically examine skin health at a deeper level.
Human skin cells emit visible light in a unique way. With the OBSERV 520x system, skin conditions can be easily identified by the unique colours and patterns that become fluorescent when exposed to true UV light. The exclusive fluorescence technology of the OBSERV 520x points out an array of surface and sub-surface skin conditions with unparalleled clarity and contrast when compared to other skin diagnostic tools.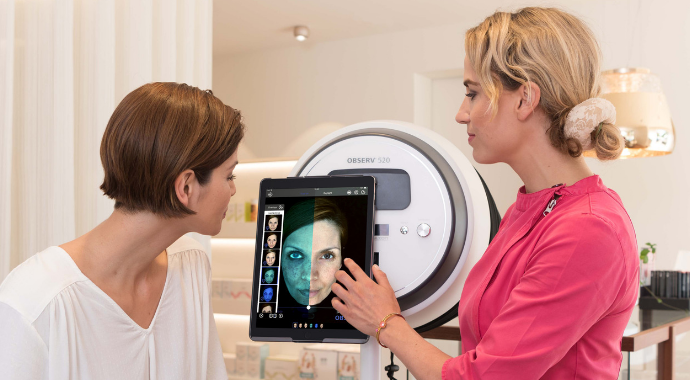 System Features
Working in tandem with ultra-modern software that can be downloaded to your iPad, OBSERV 520x supports skin professionals in accurately diagnosing skin conditions at the surface layer, as well as bringing to light the problems that reside deeper in the dermis.
Full face skin imaging analysis with 10 different modes
Engages skin fluorescence and polarised light illumination technologies
Easy to use wireless iPad control app suitable for even novice tablet users
Treatment progress tracking with impressive side-by-side comparisons
Built-in client database stores client images and consultation notes
Ability to generate client reports to print or send direct to client's email
Comes with a 29-page Skin Condition Reference Guide to assist diagnosis
FaceNotes feature enables drawing on examination images to highlight areas of concern
Rotating chinrest for full-face digital images front on, and at angles of 40 and 90 degrees
Customisable with your treatment and product range, to generate reports that include specific recommendations and assist in securing sales
Technical Specifications
Dimensions: 32cm L x 43cm W x 63cm H
Storage dimensions (packed in travel bag): 46cm L x 45cm W x 19cm H
Weight: 6.8kg
Illumination modes:
Daylight
Surface Texture
Pigmentation
Vascularity
Parallel-Polarised
Cross-Polarised
True UV
Woods Light
360 Light
360 Grey
iPad control: Bluetooth 4.0 LE
iPad compatibility: Universal iPad holder available
Illumination technology: Solid state LED
Power: 24 watts
Voltage: Global 110-240V, 50-60Hz
Plugs: Global plug set
Timer: Automatic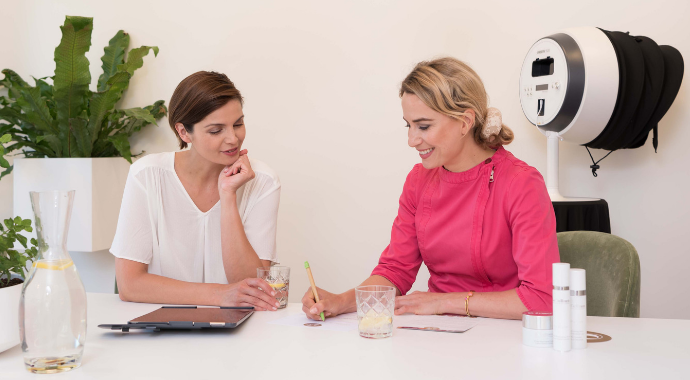 Ongoing Support with Education HUB
Access to the Australian Beauty Industry Award Winning 'Educator of the Year – Product/Equipment Company' Education HUB comes complimentary with your investment into technology.
A blended learning aesthetic education pathway like no other, each online training module covers successfully and safely performing treatments plus background into the technology history and theory. Learn through fun, engaging and interactive education modules plus online e-textbooks, quizzes and podcasts.
Your team of dermal educators and engineers at The Global Beauty Group are also available 7 days a week for rapid response clinical and technical support when you need it.

Marketing and Business Success Resources
The Global Beauty Group clients enjoy access to Marketing and Business Success Resources from our MyFaceMyBody 'Marketing Support of the Year' Award winning team. Pre-made social media images and text, suggested treatment pricing and packages, treatment brochures, posters, Marketing Success Guides, Before & Afters, pre-written website content, image library, video library and more are included complimentary, along with plus education modules on how to maxamise the impact of our Business Support Resources on your business.
Beauty Equipment Sales and Financing
Please also view our Sales and Financing options for a solution that works for your salon, or call our team of experts now on AU 1300 655 013 or NZ 0800 398 749 and let us help tailor a custom made solution to suit your individual business and budget.

The Global Beauty Group Best Price and Quality Guarantee
Experience our gold standard customer service and industry leading equipment range to discover for yourself why The Global Beauty Group is consistently Australia's leading aesthetic equipment and skincare supplier. We guarantee to beat any genuine competitor's quote on our full range of products, so why not talk to one of our friendly consultants today to find out more?
Call now for a free, no obligation quote on AU 1300 655 013, NZ 0800 398 749.