Thuzzle
A complete all-in-one solution, Thuzzle is the evolution of thermal energy technology for face and body rejuvenation.
Thuzzle is developed by GMV, an Italian based technology pioneer at the forefront of aesthetic and medical device development. Utilising over 10 years of medical technology experience, GMV has developed Thuzzle to solve 'the thermic puzzle' with a range of effective modalities designed for client comfort and results.
Listed on the Australian Register of Therapeutic Goods (ARTG ID# 385416) by the Therapeutic Goods Administration (TGA), this medical-grade device provides advanced treatment applications for:
Targeted fat reduction
Face, neck and body lifting
Resurfacing of the neck and face
Face and body skin tightening
Dermal volumising
Body toning and sculpting
Cellulite reduction
Call AU 
1300 655 013

, NZ 

0800 398 749


or click here for a free, no obligation quote
The Global Beauty Group
Client Experiences
Medical-grade excellence
Enjoy the Thuzzle competitive advantage with medi-aesthetics highest revenue and most in-demand treatments.
Utilising 4 innovative treatment applications, Thuzzle delivers clinically proven results for forward-thinking clinics. Perform high revenue services with long-lasting results to target some of the most in-demand aesthetic, dermatological and therapeutic client concerns with Skin Retraction and Neocollagenesis, Lipolysis Targeted Fat Reduction, plus Skin Resurfacing and Lifting.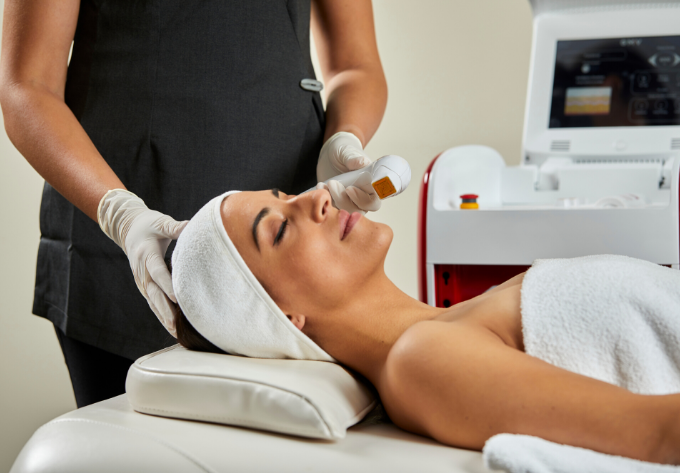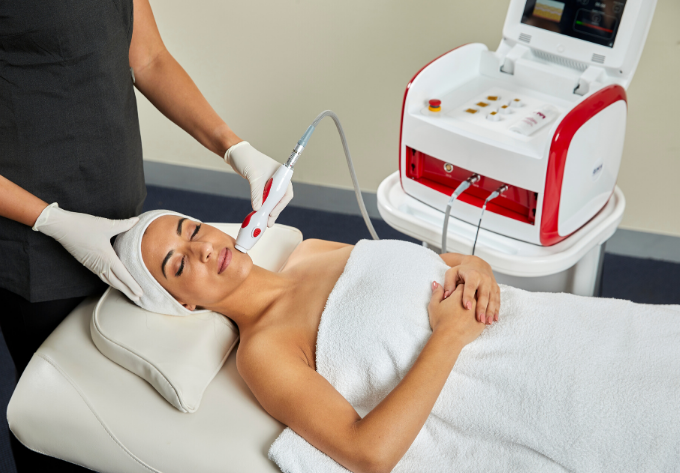 Skin Retraction and Neocollagenesis
Collagen generation to lift, smooth, tighten and revitalise from within
In an industry-first Thuzzle Skin Retraction and Neocollagenesis treatments utilise 4 Radio Frequency (RF) wavelengths of energy interlinked and controlled at 4 different depths. This innovation induces the most effective heat field possible for high-performance, superior treatment results.
Treatments deliver controlled thermal injury to initiate a healing response in the body, generating the production of new collagen, which provides structure and elasticity to the skin. By stimulating new collagen formation, Thuzzle radio frequency energy targets the visible signs of ageing to lift, smooth, tighten and revitalise.
Skin Retraction and Neocollagenesis with Thuzzle can be delivered with 4 of the included Thuzzle handpieces (all excluding the Fractional Radial handpiece). Treatment area-specific monopolar and bipolar radio frequency skin tightening handpiece options allow enhanced results and easy treatment application on all areas of the face and body.
Facial, neck and body skin tightening
Firming and smoothing of fine lines and wrinkles
Immediate and long-term skin tightening results
A dermal volumising and age reduction effect
Periorbital, perioral and neck area lifting
Fast, comfortable and easy to perform services
Non-invasive treatments with zero downtime
Vascularization and Lipolysis plus Deep Lipolysis and Localised Fat Reduction
Thuzzle lipolysis presents clear competitive advantages to help clinics stay ahead of the competition and lead the way in the increasingly popular medical-grade fat reduction and body sculpting service market.
Multiple handpieces allow for area-specific protocols that deliver tailored, targeted medical-grade fat reduction results to sculpt, contour, tighten and shape. Thuzzle's industry-first 4 Radio Frequency wavelengths of energy interlinked and controlled at 4 different depths works on the dermal layer to provide skin tightening while lipolysis is taking place. This facilitates comprehensive, all-in-one treatments that deliver optimal results in less time than traditional devices that require skin tightening to be conducted separately after fat reduction.
Thuzzle Vascularization and Lipolysis mode is a highly effective solution for fat reduction on areas of medium-density fat deposits, areas where circulation is sluggish or when targeting the appearance of cellulite. Tetra-Wave and Triple Wave handpieces are used to cause deep heating of the hypodermis, breaking down triglycerides into fatty acids and glycerol. RF energy also helps with increased blood and lymph circulation to accelerate fatty acid and glycerol metabolism and removal.
Deep Lipolysis and Localised Fat Reduction is a highly effective solution for reducing high-density fat deposits on a wide range of body areas, including hard-to-treat areas like the double chin and knees. Tetra-Wave and Double Wave handpieces use industry-first advances in radio frequency technology to cause deep heating of the hypodermis, resulting in the liquefaction and release of triglycerides from fat cells into the extra-cellular matrix. The additional benefits of increased blood and lymph circulation accelerate triglyceride drainage and removal.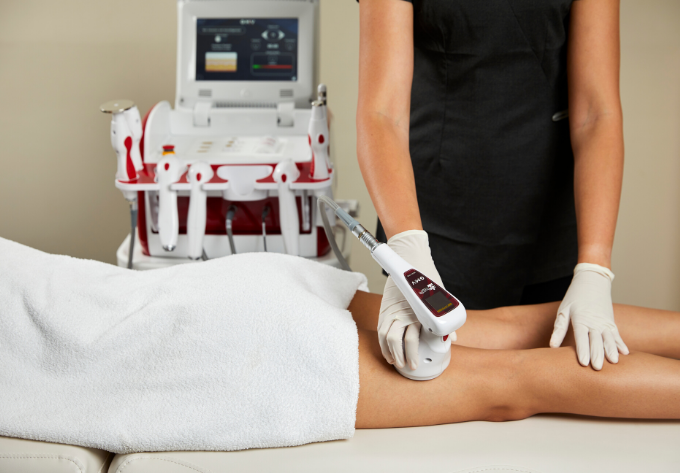 Skin Resurfacing and Lifting
Rejuvenate skin texture with Fractional Radial micro-ablation + volumetric heating
Thuzzle Skin Resurfacing and Lifting utilises Fractional Radial technology to deliver superficial epidermal micro-ablation in combination with volumetric heating of the dermis for retraction and neocollagenesis.
The fractional radiofrequency technique uses 40 or 64 pin tips to safely deliver RF energy through the skin's surface. This creates micro wounds, which initiate a natural healing process and accelerate the formation of new, healthy tissue. The innovative combination of Fractional Radial technology with volumetric heating makes it possible to treat coarse textures and elastosis in a single treatment, resulting in clinically proven improvements in skin texture and skin tightening.
Technical Specifications
Voltage: 100/240Vac 50/60Hz
Max Output Power: 50W
Load Impendence: 0-500 Ohm
Wave Shape: Sinusoidal
Output Frequency: 0.5 ÷ 2 MHz
Weight: 15kg
Dimensions: 50cm L x 40cm W x 32cm H
Max Absorbed Power: 450 W
LED Touchscreen: 10.1″ colour touch screen
Certification: CE according to directive 93/42/ EEC
Ongoing Support with Education HUB
Access to the Australian Beauty Industry Award Winning 'Educator of the Year – Product/Equipment Company' Education HUB comes complimentary with your investment into technology.
A blended learning aesthetic education pathway like no other, each online training module covers successfully and safely performing treatments plus background into the technology history and theory. Learn through fun, engaging and interactive education modules plus online e-textbooks, quizzes and podcasts.
Your team of dermal educators and engineers at The Global Beauty Group are also available 7 days a week for rapid response clinical and technical support when you need it.

Marketing and Business Success Resources
The Global Beauty Group clients enjoy access to Marketing and Business Success Resources from our MyFaceMyBody 'Marketing Support of the Year' Award winning team. Pre-made social media images and text, suggested treatment pricing and packages, treatment brochures, posters, Marketing Success Guides, Before & Afters, pre-written website content, image library, video library and more are included complimentary, along with plus education modules on how to maxamise the impact of our Business Support Resources on your business.
Beauty Equipment Sales and Financing
Please also view our Sales and Financing options for a solution that works for your salon, or call our team of experts now on AU 1300 655 013 or NZ 0800 398 749 and let us help tailor a custom made solution to suit your individual business and budget.

The Global Beauty Group Best Price and Quality Guarantee
Experience our gold standard customer service and industry leading equipment range to discover for yourself why The Global Beauty Group is consistently Australia's leading aesthetic equipment and skincare supplier. We guarantee to beat any genuine competitor's quote on our full range of products, so why not talk to one of our friendly consultants today to find out more?
Call now for a free, no obligation quote on AU 1300 655 013, NZ 0800 398 749.