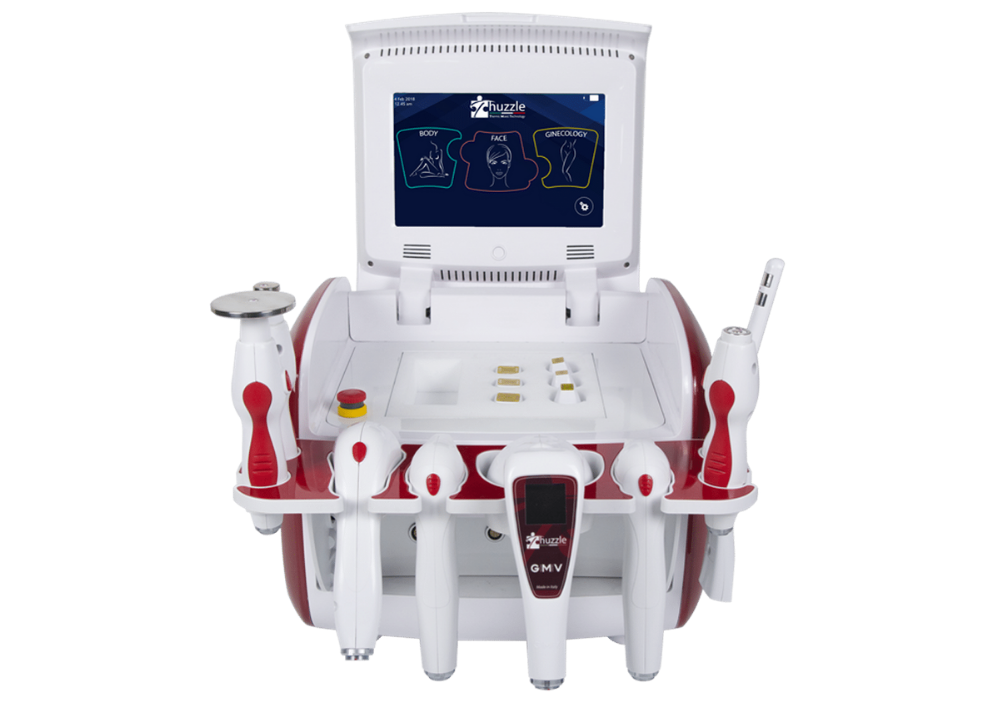 Thuzzle
A complete all-in-one solution, Thuzzle is the evolution of thermal energy technology for face, body and intimate area rejuvenation.
Utilising 3 innovative technologies and 10 operating modes, Thuzzle provides proven results for forward-thinking clinics. Easily perform high revenue treatments to target some of the fastest-growing aesthetic, dermatological and therapeutic client concerns.
Thuzzle is developed by GMV, an Italian based technology pioneer at the forefront of aesthetic and medical device development. Utilising over 10 years of medical technology experience, GMV has developed Thuzzle with a range of effective modalities designed for client comfort and results.
Listed on the Australian Register of Therapeutic Goods (ARTG) by the Therapeutic Goods Administration (TGA), this medical-grade device provides advanced treatment applications for:
Targeted fat reduction
Face, neck and body lifting
Resurfacing of the neck and face
Lymphatic drainage
Face and body skin tightening
Dermal volumising
Body toning and sculpting
Cellulite reduction
Functional and aesthetic vaginal rejuvenation
Call AU 
1300 655 013

, NZ 

0800 398 749


or click here for a free, no obligation quote
The Global Beauty Group
Client Experiences
Fractional Rejuvenation
Thuzzle fractional rejuvenation combines epidermal micro-ablation for resurfacing with volumetric heating of the dermis for skin tightening and neocollagenesis.
Italian engineered for excellence, Thuzzle is the only fractional rejuvenation technology capable of delivering a radial type signal without penetration of the epidermis, allowing energy to be delivered evenly across skin tissues for consistent, reliable results.
The combination of epidermal micro-ablation with volumetric heating into a single treatment enables clinicians to correct coarse textures, loss of elasticity and pigmentation all in one fast treatment for visibly younger-looking skin from just 1 session.
Benefits of fractional rejuvenation with Thuzzle:
Reduces fine lines and wrinkles
Volumises the dermis
Refines enlarged pores
Evens out skin tone
Improves acne scarring
Corrects sun spots and damage
Improves skin texture
Improves skin luminosity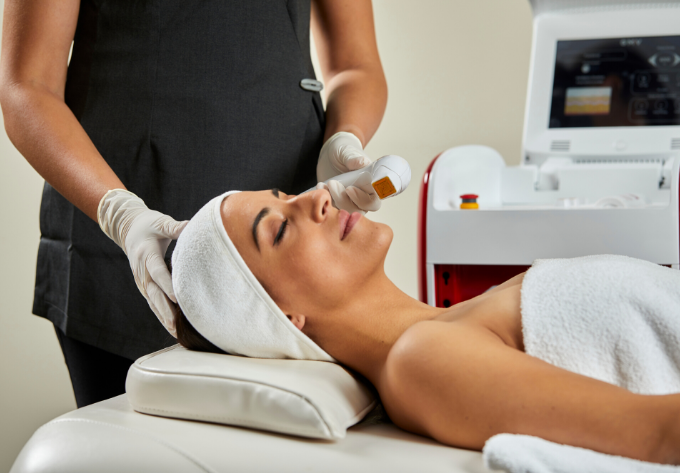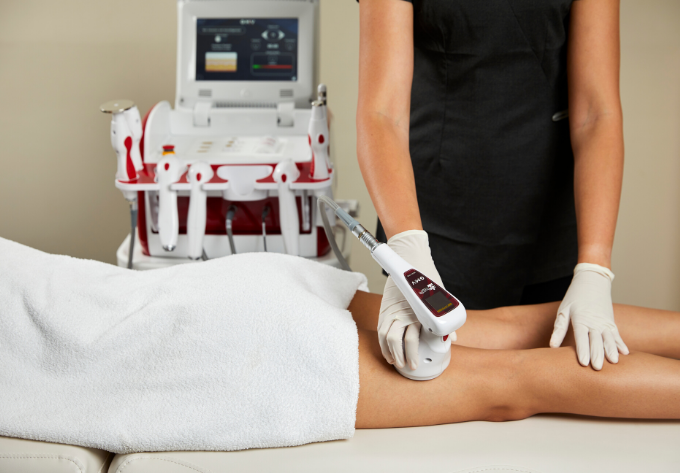 Tetrawave Body Contouring
With exclusive Tetra-Wave technology, Thuzzle delivers advanced radio frequency-based body contouring.
4 linked electromagnetic waves – independent in power, frequency and duration – combine for next-generation circumferential fat reduction and sculpting. The Tetra-Wave handpiece is ergonomically designed and includes temperature control, integrated movement sensors and skin recognition. With Tetra-Wave, clinicians can ensure homogenous and deep heating of the dermis and hypo-dermis simultaneously to treat the subcutaneous fat layer and accelerate natural fat metabolism.
Triglycerides are then liquefied and are released from fat cells into the extra-cellular matrix, before being processed through the body.
Combined with the unique increased blood and lymph circulation, optimised tissue oxygenation and detoxification properties of Thuzzle radio frequency, clients can enjoy enhanced results for body contouring in under 30 minutes a session.

RF Skin Tightening
Treatment area-specific monopolar and bipolar radio frequency skin tightening handpieces allow enhanced results and easy treatment application on all areas of the face and body.
Oscillating electrical currents from radio frequency cause molecules to collide, generating heat. The body responds to this controlled trauma by releasing heat shock proteins, then fibroblasts. Collagen helix's are immediately tightened with new collagen and elastin synthesised.
Face, neck and body skin tightening benefits: 
Firm and tightening of fine lines and wrinkles
Immediate and long-term skin tightening results
Induces a dermal volumising, anti-ageing effect
Targets hard-to-treat periorbital, perioral and neck areas
Quick treatments for time-pressed clients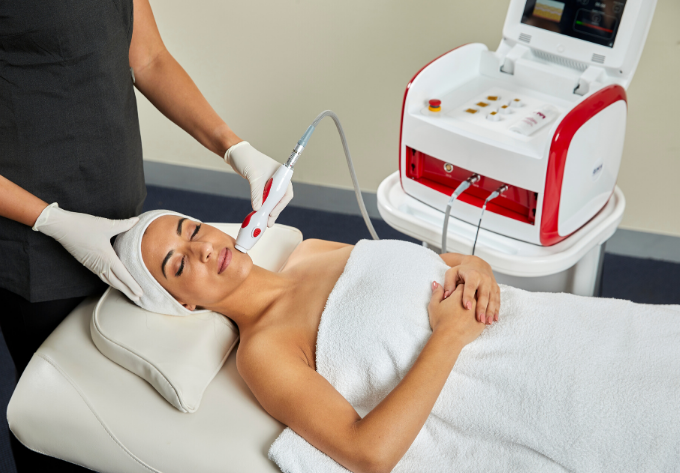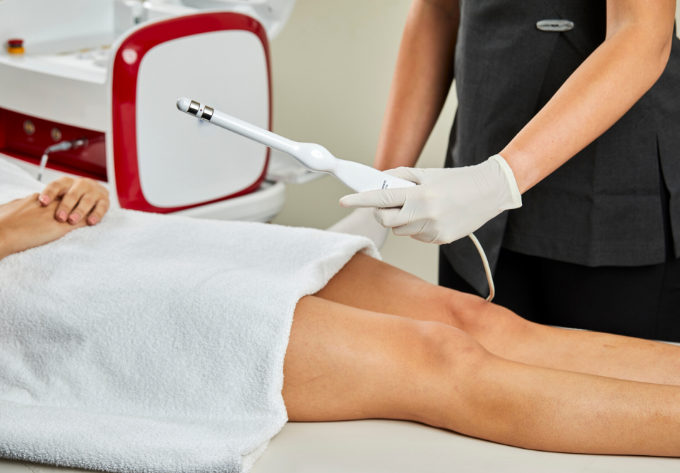 Intimate Rejuvenation
In a study of 8,081 postmenopausal women, 38% experienced symptoms of vaginal atrophy including urinary incontinence, vaginal inflammation and discomfort during intercourse (REVIVE Survey, 2012).
Comfortable intimate rejuvenation treatments with Thuzzle utilise monopolar and bipolar modes to create fibroblast proliferation and regenerate collagen. This improves vaginal elasticity to address commonly experienced concerns such as incontinence, sexual discomfort and weakening of the pelvic floor.
Treatments work both on a superficial and deeper level to provide overall rejuvenation. The disposable vaginal handpiece is designed for 1-person use and is suitable for an entire patient treatment series (6-8 treatments).
Fast and comfortable, intimate rejuvenation gynaecological treatments are becoming increasingly popular in clinics striving to support clients achieve a happier quality of life and establish themselves as leaders in this fast-growing aesthetic and therapeutic area.
Technical Specifications
Voltage: 100/240Vac 50/60Hz
Max Output Power: 50W
Load Impendence: 0-500 Ohm
Wave Shape: Sinusoidal
Output Frequency: 0.5 ÷ 2 MHz
Weight: 15kg
Dimensions: 50cm L x 40cm W x 32cm H
Max Absorbed Power: 450 W
LED Touchscreen: 10.1″ colour touch screen
Certification: CE according to directive 93/42/ EEC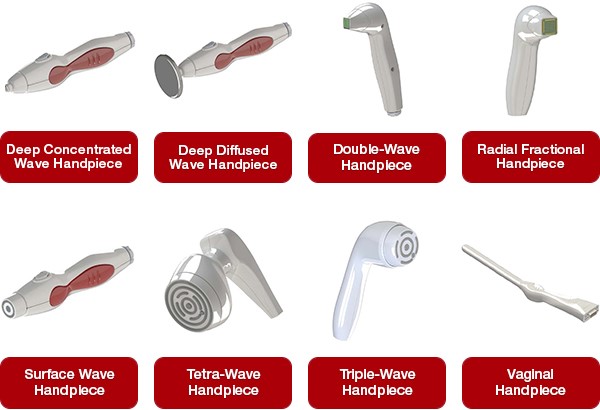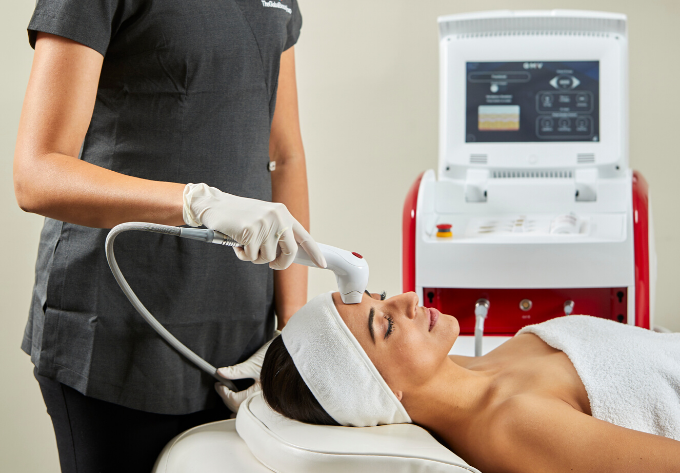 A Comprehensive, World Class Training Program is Included with Your Order!
The Global Beauty Group is totally committed to providing you with outstanding training experience. For this reason, a highly developed training program is provided FREE for you and one other staff member with your purchase. Training is conducted at our Melbourne training centre and a Travel Assistance Rebate is supplied for interstate customers.
FREE Marketing Materials
The Global Beauty Group not only believe in providing you with excellent devices and outstanding training programs, we also believe in helping you to market your new services to your existing and new clients. With this in mind, we have created an informative customer brochure and advertising poster for you to use to help promote your business. Here are some of the examples of the marketing materials that you will receive with your purchase.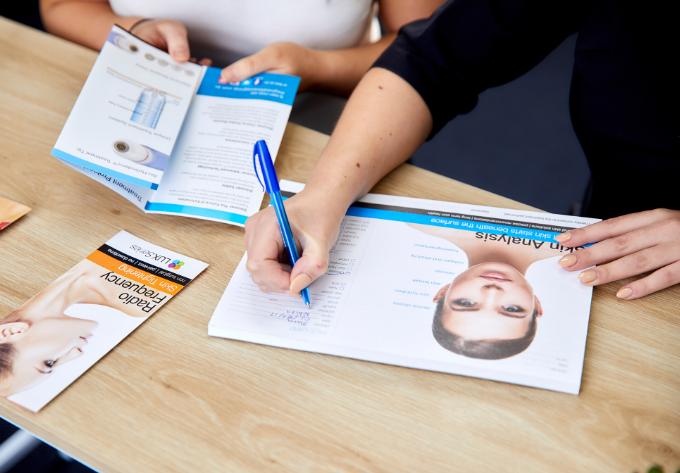 Beauty Equipment Sales and Financing
Please also view our Sales and Financing options for a solution that works for your salon, or call our team of experts now on AU 1300 655 013 or NZ 0800 398 749 and let us help tailor a custom made solution to suit your individual business and budget.

The Global Beauty Group Best Price and Quality Guarantee
Experience our gold standard customer service and industry leading equipment range to discover for yourself why The Global Beauty Group is consistently Australia's leading aesthetic equipment and skincare supplier. We guarantee to beat any genuine competitor's quote on our full range of products, so why not talk to one of our friendly consultants today to find out more?
Call now for a free, no obligation quote on AU 1300 655 013, NZ 0800 398 749.