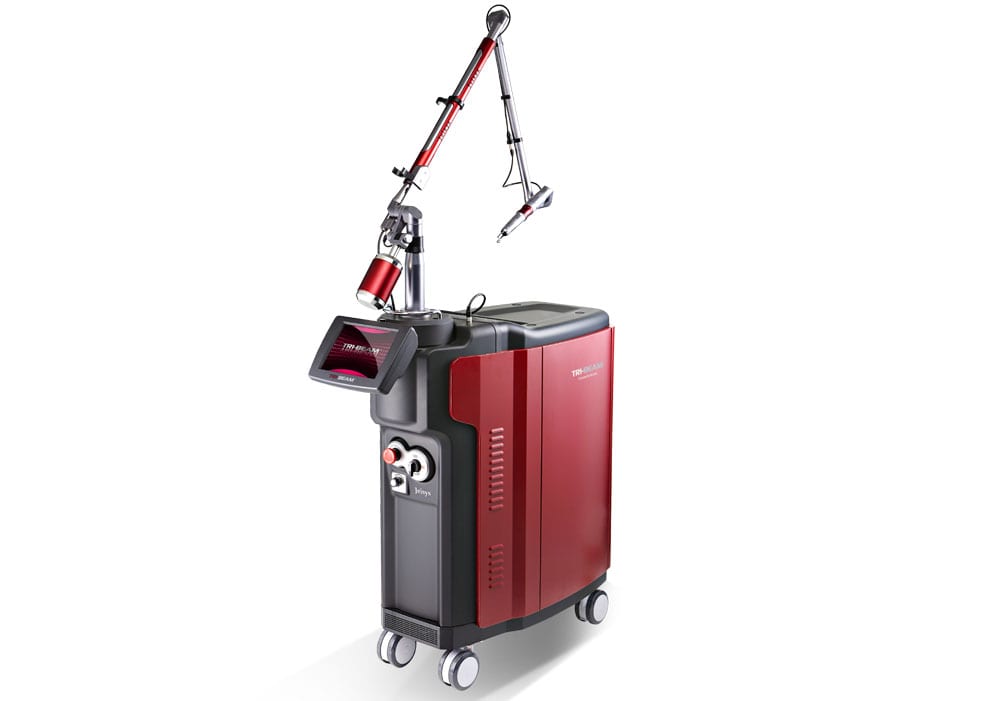 TRI-BEAM™
TRI-BEAM™ is a scientifically advanced Q-Switched Nd:YAG Laser that boasts exceptional results in:
Advanced and rapid tattoo removal
Treatment of epidermal and dermal pigmentation and freckles
Non-abrasive skin rejuvenation and resurfacing
Treatment of acne and enlarged pores
Diminishing fine lines and wrinkles
Regeneration of damaged cells and collagen
Lifting, tightening and improving tone of ageing skin
TRI-BEAM™ equips operators with a sleek and stylish design and user-friendly system – the multiple operation modes allows patients to experience a wide range of treatments that can be specifically targeted to their individual concerns.
TRI-BEAM™ boasts unique auto-sensor spot size detection allowing operators intuitive ease-of-use and personalised treatment to the patient's condition, while the zoom collimated handpiece enables an all-round faster and more comfortable treatment experience. TRI-BEAM™ is also very low maintenance and requires minimum consumables, which greatly reduces operating costs for salon, spa, clinic and practice owners.
Call AU
1300 655 013

, NZ

0800 398 749


or click here for a free, no obligation quote
The Global Beauty Group
Client Experiences
One of a Kind Rich-PTP™ Technology
Rich-PTP™, which stands for Photoacoustic Therapy Pulse is a unique and completely exclusive feature of TRI-BEAM™. It has achieved unmatched success in clinical efficacy compared to other Q-Switch Nd:YAG lasers. Rich-PTP™ specifically shatters targeted chromophores and maximises photo-acoustic effect resulting in a faster, safer and more effective toning of the treatment area and superior aesthetic results thanks to this extremely powerful and advanced energy. So powerful, the Rich-PTP™ technology delivers 2-pulse energy and up to 20Hz of power in a much shorter time, which minimises damage to the epidermal cells while selectively targeting and destroying pigmented lesions.
In addition to a 1060nm capability for removing dark ink and a 532nm capability for red and orange ink, the TRI-BEAM™ also has 585nm and 650nm dye wavelength handpieces available. The 585nm wavelength handpiece treats sky blue ink, while the 650nm wavelength handpiece targets green ink, allowing for effective full-colour tattoo removal.
TRI-BEAM™ is also available with an additional fractional handpiece. The fractional handpiece assists in the delivery of exceptional treatment outcomes, while at the same time reducing the possibility of post-inflammatory hyperpigmentation complications associated with less sophisticated tattoo removal devices.
Gen Technique™ Philosophy via Quasi-Long Pulse
Quasi-Long Pulse and Gen Technique™ is a functional combination of thermal lifting and toning achieved through fundamental selective photothermolysis. Gen Technique™ is fantastic for treating pigmented lesions as well as common skin rejuvenation requests including skin lifting, skin toning and reducing enlarged pores. Expect better efficacy with the integrated Gen Technique™ in the TRI-BEAM™ system when it comes to peeling, lifting, treating and diminishing deep pigmentation and regenerating collagen production.
Technical Specifications
Dimensions: H 790mm x W 310mm x L 690mm (without articulated arm)
Weight: 110kg
Electrical power: 220V, Single Phase, 50/60Hz, 20 Amps @ 220V AC
Laser medium: Nd:YAG Q-Switched
Operating parameters: Q-Switched & Quasi-Long Pulse
Wavelength: 1064/532nm
Handpiece energy: Q-Switched Top Hat mode – 1064nm 1.6 Joule/double pulse / Gaussian mode – 1064nm 1.5 Joule/pulse / 532nm 500mJoule/pulse Quasi-Long Pulse 1064nm 3.5 Joule
Cooling: Closed cycle water to air heat exchanger
Maximum pulse energy density: Q-Switched Top Hat mode – 1064nm 22.6J/cm² @ 3.0mm spot size 532 nm 7.0J/cm² @ 3.0mm spot size Quasi-Long Pulse: 1064nm 12.3J/cm² @ 6.0mm spot size
Pulse width: Q-Switched – 5-10ns / Quasi-Long Pulse – 300us
Repitition rate: single shot, 1-20Hz pulses per second
Beam profile: True Flat-Top Hat
Energy calibration: External
Spot sizes: Zoom handpiece – 1064nm 2mm ~ 10mm / 532nm 2mm ~ 10mm Collimator handpiece – 6mm Fractional handpiece (optional) 5mm x 5mm (81 spots)
Beam delivery: Articulated arm with up to 240cm reach, 7-joint 360° rotation
Ongoing Support with Education HUB
Access to the Australian Beauty Industry Award Winning 'Educator of the Year – Product/Equipment Company' Education HUB comes complimentary with your investment into technology.
A blended learning aesthetic education pathway like no other, each online training module covers successfully and safely performing treatments plus background into the technology history and theory. Learn through fun, engaging and interactive education modules plus online e-textbooks, quizzes and podcasts.
Your team of dermal educators and engineers at The Global Beauty Group are also available 7 days a week for rapid response clinical and technical support when you need it.

Marketing and Business Success Resources
The Global Beauty Group clients enjoy access to Marketing and Business Success Resources from our MyFaceMyBody 'Marketing Support of the Year' Award winning team. Pre-made social media images and text, suggested treatment pricing and packages, treatment brochures, posters, Marketing Success Guides, Before & Afters, pre-written website content, image library, video library and more are included complimentary, along with plus education modules on how to maxamise the impact of our Business Support Resources on your business.
Beauty Equipment Sales and Financing
Please also view our Sales and Financing options for a solution that works for your salon, or call our team of experts now on AU 1300 655 013 or NZ 0800 398 749 and let us help tailor a custom made solution to suit your individual business and budget.

The Global Beauty Group Best Price and Quality Guarantee
Experience our gold standard customer service and industry leading equipment range to discover for yourself why The Global Beauty Group is consistently Australia's leading aesthetic equipment and skincare supplier. We guarantee to beat any genuine competitor's quote on our full range of products, so why not talk to one of our friendly consultants today to find out more?
Call now for a free, no obligation quote on AU 1300 655 013, NZ 0800 398 749.