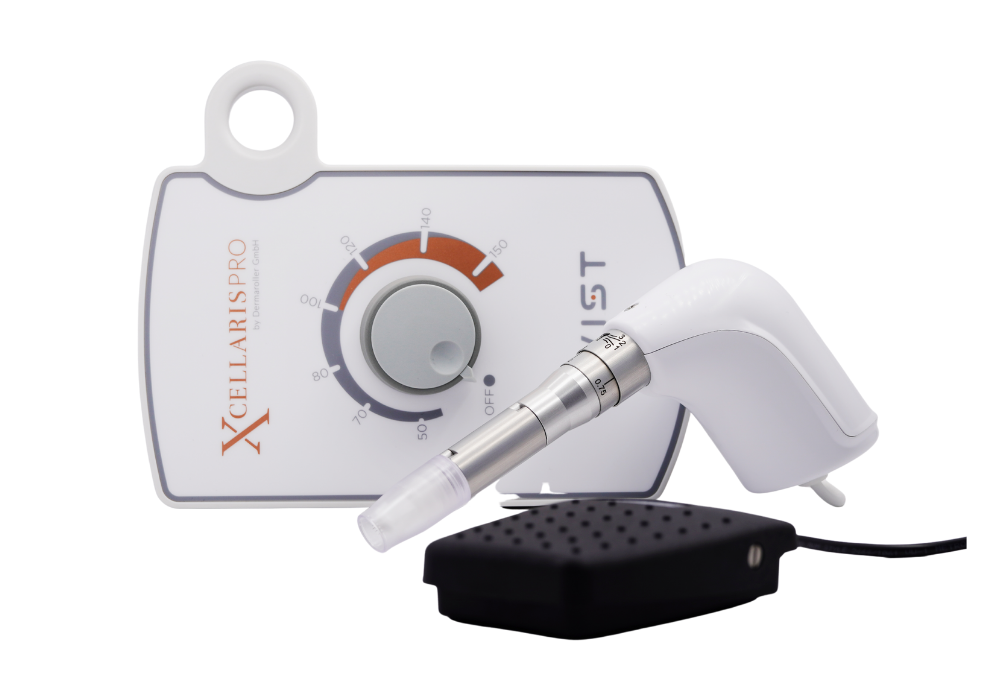 XCellaris PRO TWIST
The next generation of microneedling and Collagen Induction Therapy (CIT) has arrived with XCellaris PRO TWIST.
Combining medical-grade technology (ARTG #332420, #332421, #332265) with unparalleled comfort, safety and precision XCellaris PRO TWIST delivers advanced innovations that enhance clinical treatment outcomes.
Engineered and manufactured in Germany, XCellaris PRO TWIST is developed by the makers of the original Dermaroller® and features the highest quality medical-grade needles to:
Promote skin rejuvenation
Reduce the appearancee of fine lines and wrinkles
Reduce the appearance of facial and body scars
Address unwanted stretch marks
Volumise complexions
Boost skin elasticity
Improve skin texture and ton
Call AU 
1300 655 013

, NZ 

0800 398 749


or click here for a free, no obligation quote
The Global Beauty Group
Client Experiences
Discover the XCellaris PRO TWIST Difference
When it comes to microneedling clinical outcomes, XCellaris PRO TWIST sets a new standard in delivering successful treatment outcomes quickly, comfortably and with accelerated healing. Here's how.
The Fastest Microneedling Technology On The Market: At 150 strokes per second, the XCellaris PRO TWIST can safely glide over the skin without scratching or tearing the skin. Needle depth is adjustable between a penetration depth from 0-2.5mm.
Regulated Technology: The XCellaris PRO TWIST is included by the Therapeutic Goods Administration (TGA) on the Australian Register of Therapeutic Good (ARTG #332420, #332421, #332265).
Medical-Grade Equipment: Developed and manufactured in Germany, the XCellaris PRO TWIST is ISO13485 certified, meeting all standards for medical-grade equipment in manufacturing, materials, sterile packaging and more.
Innovative Microneedles: The medical-grade microneedles of the German-engineered XCellaris PRO TWIST are non-traumatic, cone-shaped needles that displace the skin during the puncture process, creating a micro-wound that seals within minutes of treatment. These precision-manufactured needles reduce the occurrence of undesirable microneedling side effects such as bruising, swelling and significant downtime.
Fast + Efficient: At 150 strokes per second, the XCellaris PRO TWIST can safely glide over the skin without scratching or tearing the skin. Respecting the integrity of the epidermis and dermis, XCellaris PRO TWIST uses fast, atraumatic (non-traumatic) perforations to gently trigger the generation of new tissue.
Built For Consistency: XCellaris PRO TWIST employs an optimal number of needles to maximise effectiveness, safety and comfort. In conjunction with patented flexibility, the XCellaris PRO TWIST needle head adjusts itself to the treatment area without strain.
What happens during an XCellaris PRO TWIST treatment?
Once the treatment tip length has been adjusted in accordance with the treatment indication and area, the clinician applies the microneedles to the skin with strokes of the treatment cartridge tip. Consistent motor power then moves the needle module up and down with a high frequency.
Depending on the required outcome the needles enter the skin 50-150 times per second, triggering the body's natural healing process.
As a result, stimulation of cell production is accelerated, and the formation of new collagen begins. This results in a thicker, more supple, cellular matrix.
Clients are able to see immediate results with collagen production formulating 6 weeks post-treatment and continuing overtime. Depending on the treatment area, most clients require 4-6 treatments to achieve their best results.

Technical Specifications
Input Voltage:100V – 240V
Frequency Power Supply: 50/60 Hz
Needle Stroke Operating Frequency: 50 to 150 Hz ± 10%
Control Unit Dimensions: 114mm x 86mm x 183mm
Handpiece Weight: 260g
Control Unit Weight: 825g
Ambient Temperature: +10°C to +35°C
Relative Humidity: 30% – 75%
Needle Length: 2.5mm
Class: CE marked medical device, Class IIa
Ongoing Support with Education HUB
Access to the Australian Beauty Industry Award Winning 'Educator of the Year – Product/Equipment Company' Education HUB comes complimentary with your investment into technology.
A blended learning aesthetic education pathway like no other, each online training module covers successfully and safely performing treatments plus background into the technology history and theory. Learn through fun, engaging and interactive education modules plus online e-textbooks, quizzes and podcasts.
Your team of dermal educators and engineers at The Global Beauty Group are also available 7 days a week for rapid response clinical and technical support when you need it.

Marketing and Business Success Resources
The Global Beauty Group clients enjoy access to Marketing and Business Success Resources from our MyFaceMyBody 'Marketing Support of the Year' Award winning team. Pre-made social media images and text, suggested treatment pricing and packages, treatment brochures, posters, Marketing Success Guides, Before & Afters, pre-written website content, image library, video library and more are included complimentary, along with plus education modules on how to maxamise the impact of our Business Support Resources on your business.
Beauty Equipment Sales and Financing
Please also view our Sales and Financing options for a solution that works for your salon, or call our team of experts now on AU 1300 655 013 or NZ 0800 398 749 and let us help tailor a custom made solution to suit your individual business and budget.

The Global Beauty Group Best Price and Quality Guarantee
Experience our gold standard customer service and industry leading equipment range to discover for yourself why The Global Beauty Group is consistently Australia's leading aesthetic equipment and skincare supplier. We guarantee to beat any genuine competitor's quote on our full range of products, so why not talk to one of our friendly consultants today to find out more?
Call now for a free, no obligation quote on AU 1300 655 013, NZ 0800 398 749.