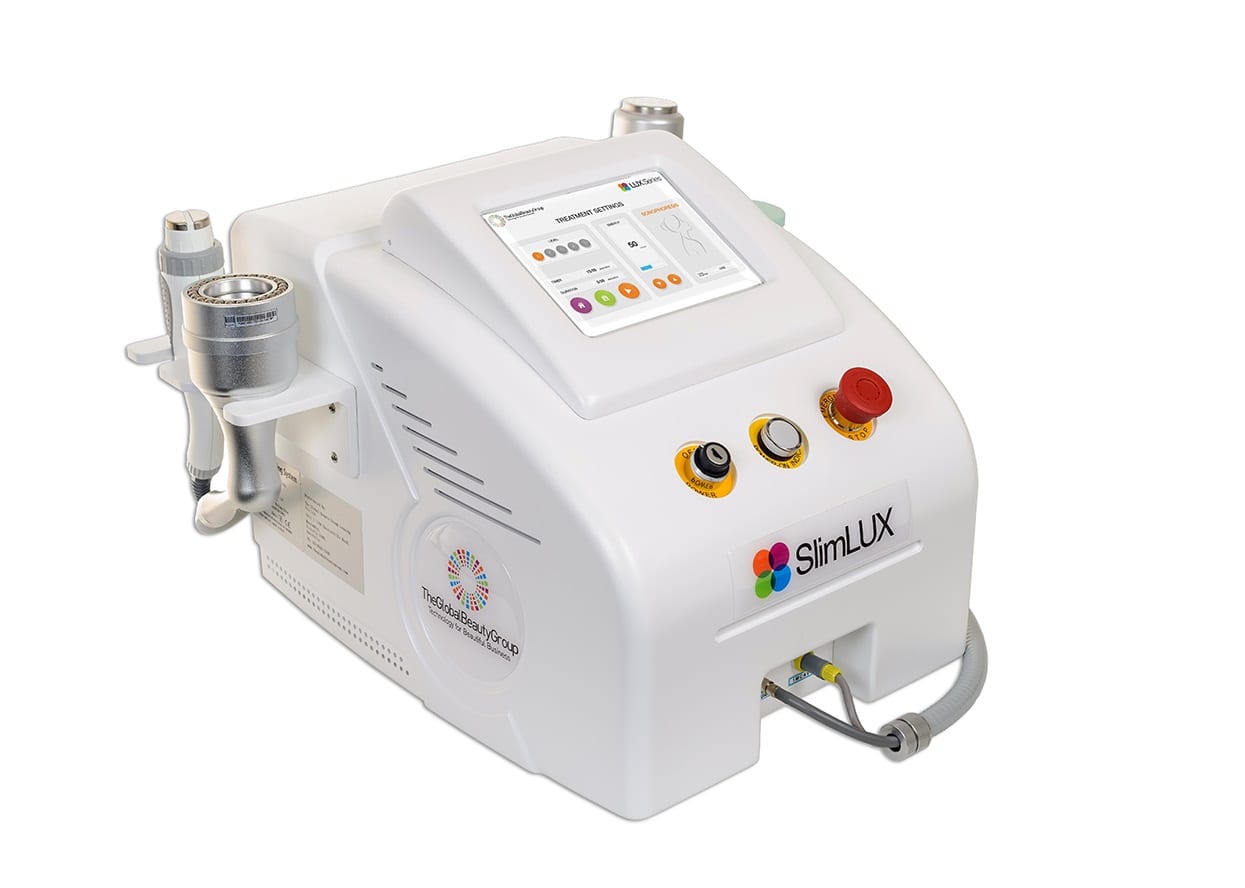 SlimLUX
For dedicated non-surgical face and body enhancement treatments, the SlimLUX is a leading choice for innovative salons, medispas and wellness clinics. Utilising both Ultrasound Body Contouring and Radiofrequency (RF) technology, the SlimLUX works hard to deliver impressive results when it comes to cellulite and fat reduction, body contouring, facial skin tightening and sonophoresis skincare infusion.
Applications
Face and body fat reduction
Cellulite reduction
Face and body skin tightening
Fine line and wrinkle reduction
Sonophoresis skincare infusion facials
Call AU
1300 655 013

, NZ

0800 398 749


or click here for a free, no obligation quote
Download our complimentary
2019 Technology Guide
How it Works
1. Focussed Ultrasound Body Shaping
SlimLUX Ultrasound Body Contouring works by targeting fat cells in the adipose tissue with high-frequency sound waves that shake the cell membrane to the point of rupture. This process breaks down and disperses the fat tissue which is then taken on by the lymph system, exiting the body through natural sweat, urine and bowel movements. Ultrasound Body Contouring treatment only works on the targeted unwanted fat cells and does not cause damage to surrounding, healthy skin tissue. The entire bodily process takes several days to complete following treatment which is why sessions are spaced at weekly intervals.
Client Benefits
A non-surgical and non-invasive alternative to liposuction and face/skin lifting procedures
Treatment is painless with instant results that just get better over time
No post-treatment downtime allows clients to get on with daily activities as usual
Clients can request treatment on virtually any part of their face or body
Sonophoresis: Ultrasound skincare infusion facials deepen product penetration resulting in greater absorption of the skincare ingredients to deliver more radiant facial outcomes
Typically a course of 5-10 treatments is required to achieve optimal results, making SlimLUX a pro-active way to increase booking rates and keep clients coming back through your door.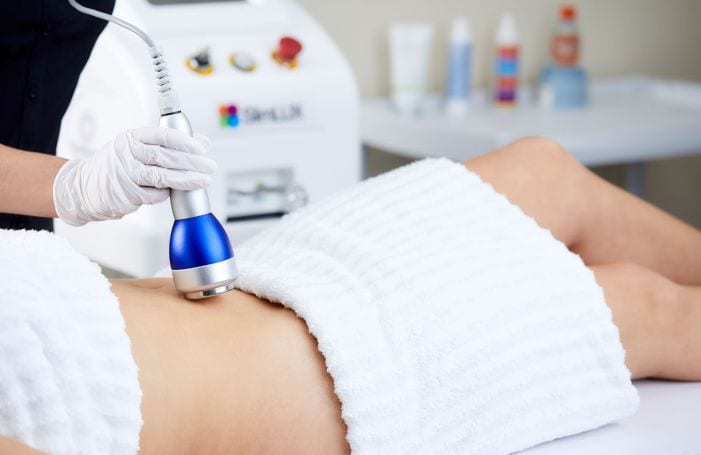 2. Radio Frequency (RF) Skin Tightening
RF energy is an effective treatment for addressing skin laxity on the face and body and is commonly used for non-surgical face and body lifts such as under-eye bags, neck, jowls, buttocks, décolleté firming and postnatal tummy tightening. When synergised with ultrasound cavitation, RF can aid further fat breakdown and also tighten the skin in the area where the cavitation treatment has taken place.
During treatment, the therapist slowly rotates the handpiece over the targeted area transmitting radio waves through the upper layers of the skin to the dermis – heating the dermis to between 39 and 45 degrees Celsius without harm to surrounding tissue. This process activates the following treatment benefits.
Treatment Benefits
Tissue retraction: The generated heat causes local contraction of the collagen fibres resulting in immediate tightening of the skin
New collagen formation: By heating the dermis, new collagen production is stimulated and keeps working beneath the surface for 1-3 months after treatment
Improved circulation: RF improves blood and lymphatic flow. This induces increased oxygen supply and greater toxin clearance to further reduce the signs of ageing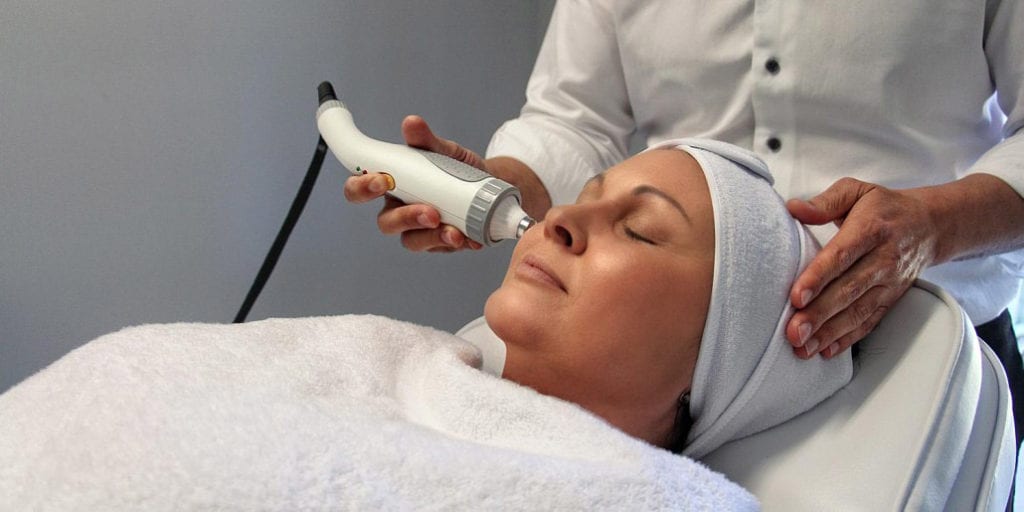 Technical Specifications
Cavitation Types: 40 KHz and 1 MHz
Vacuum Hand Piece: Yes
Operating Interface: 10 inch colour touch screen
Number of RF handpieces: 1 with 2 x RF facial and body treatment tips
Ultrasound handpieces: 1 x 40KHz and 3 x 1MHz
Net Weight: 35kg
Warranty: 1 year (extendable)
A Comprehensive, World Class Training Program is Included with Your Order!
The Global Beauty Group is totally committed to providing you with outstanding training experience. For this reason, a highly developed training program is provided FREE for you and one other staff member with your purchase. Training is conducted at our Melbourne training centre and a Travel Assistance Rebate is supplied for interstate customers.

FREE Marketing Materials
The Global Beauty Group not only believe in providing you with excellent devices and outstanding training programs, we also believe in helping you to market your new services to your existing and new clients. With this in mind, we have created an informative customer brochure and advertising poster for you to use to help promote your business. Here are some of the examples of the marketing materials that you will receive with your purchase.
Beauty Equipment Sales and Financing
Please also view our Sales and Financing options for a solution that works for your salon, or call our team of experts now on AU 1300 655 013 or NZ 0800 398 749 and let us help tailor a custom made solution to suit your individual business and budget.

The Global Beauty Group Best Price and Quality Guarantee
Experience our gold standard customer service and industry leading equipment range to discover for yourself why The Global Beauty Group is consistently Australia's leading aesthetic equipment and skincare supplier. We guarantee to beat any genuine competitor's quote on our full range of products, so why not talk to one of our friendly consultants today to find out more?
Call now for a free, no obligation quote on AU 1300 655 013, NZ 0800 398 749.